It's official, Verizon Wireless will roll out RIM's Global CDMA/GSM "World Edition" BlackBerry 8830 on May 14 through its business units and online retailing outfit, with product to hit the brick-and-mortar VZW stores on May 28. The 8830 will cost $299.99 after a $100 rebate with a "new two-year customer agreement". You can get an additional $100 credit if you sign up for "qualifying" plans when you buy it.
If it looks familiar, it's because our very own Louis Ramirez showed you some pics and mentioned its QVGA screen, microSD slot, and dual GSM/CDMA goodness (and lack of camera) three weeks ago.
In the US, the 8300 runs on VZW's 1X CDMA voice network and its EV-DO data network. But the 8830 also has a SIM card, so that overseas, you get voice roaming over GSM (or CDMA where available) in 157 countries; you also get EDGE data roaming in 62 different countries. More exciting 8830 factoids after the jump.
G/O Media may get a commission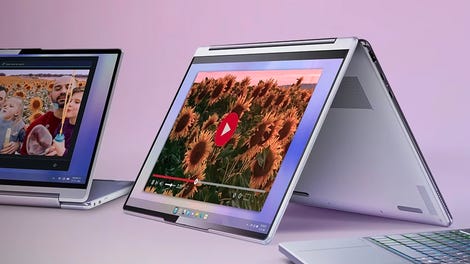 up to 70% off
Lenovo Spring Clearance
•The 8830 is 2.6" wide, 4.9" tall and .55" thick, weighing 4.6 oz. (The Cingular New AT&T 8800 is 2.6" wide, 4.5" tall and .55" thick, weighing 4.73 oz; if I find out why there is a counterintuitive weight discrepancy, I'll let you know.) It has a similar keyboard and trackball to the original 8800.
•The network auto-selection feature lets the 8830 search for the first available network, starting with whatever it was using last. If you are in the US, it will always use CDMA, but if you get off the plane at Heathrow and power it up, it will seek a CDMA network. Upon not finding one, it will see a GSM network. Needless to say, it will only roam on networks—CDMA or GSM—for which Verizon Wireless has a roaming deal. (Fun fact: Even though Korea mainly runs CDMA networks, Verizon phones will not roam on them.)
•This BlackBerry has extended battery life. Verizon Wireless says it is 25% greater than previous BlackBerrys. (BlackBerries?) Standby time is 216 hours; that is, roughly 9 days. Talk time is 220 minutes.
•Here's how the pricing breaks down: Unlimited global e-mail service costs $65 per month on top of a standard voice plan. You can get unlimited global data without any voice calling for a flat $70 per month. If you prefer to stay at home, the BlackBerry service is $45 on top of a voice plan, or $50 for unlimited data but no voice plan.
•Verizon Wireless has had CDMA/GSM world phones since September 2004, when it launched the Samsung a790. In addition to the BlackBerry 8830, the current world phone lineup includes the Motorola a840 and the Samsung a795 for global voice roaming, and the Samsung i830 Windows Mobile PDA for global voice and data. The new pricing plan introduced for the BlackBerry 8830 will now also be offered to people who buy or already own the i830.
Bottom line: it's a sweet phone but still mainly an enterprise play. For those of you waiting for a more slender BlackBerry, like the Pearl that T-Mobile made famous, you can keep waiting. Also, if you're waiting for a T-Mobile-like consumer-friendly price plan for this baby, it ain't gonna happen. Not as long as they can lure in well-heeled international bankers who spend too much time in the Northeast US to pick any domestic carrier other than Verizon Wireless but really need some kind of mobile multinational e-mailing companion. Don't get me wrong, I want one bad. I just can't rationalize a device of such global reach (or such painful monthly gougings).
Here's the full VZW announcement:
VERIZON WIRELESS ANNOUNCES THE NEXT EVOLUTION IN GLOBAL CONNECTIVITY: THE BLACKBERRY 8830 WORLD EDITION SMARTPHONE AND GLOBAL BLACKBERRY SERVICE

First CDMA/GSM BlackBerry Smartphone, Coupled with Always-On Global E-Mail and 24/7 Help Desk, Keeps Travelers Connected In More Than 60 Countries

BASKING RIDGE, N.J. and WATERLOO, Ontario - Verizon Wireless, operator of the nation's most reliable wireless network, and Research In Motion (RIM) (Nasdaq: RIMM: TSX: RIM), a global leader in wireless innovation, today introduced the first Global CDMA/GSM BlackBerry®. The BlackBerry 8830 World Edition smartphone will be available on May 14 through Verizon Wireless' business sales channels and in Verizon Wireless Communications Stores on May 28.

In addition, Verizon Wireless announced the May 14 availability of its new Global BlackBerry service, an "always-on, always connected" wireless e-mail solution that provides quick, easy access to e-mail, contacts, calendar, organizer and the Web while on-the-go. With the BlackBerry 8830 World Edition smartphone and Global BlackBerry service from Verizon Wireless, customers get wireless e-mail and the convenience of one local number for domestic and international use in Australia, Europe, parts of Africa, Asia, Latin America, the Middle East and North America.

Verizon Wireless' new Global BlackBerry service allows customers to place and receive voice calls from more than 150 countries and send and receive e-mails in the United States, Canada and more than 60 countries worldwide. With Global BlackBerry service, Verizon Wireless customers receive the Global Support Pack, which includes a SIM card, a user reference guide and details on accessing the Global Help Desk for 24-hour customer support, seven days a week. Customers also receive a calling card for free support calls while traveling outside of the U.S. from any landline phone to technical support if the BlackBerry 8830 is lost, broken or stolen.

"The BlackBerry 8830 with Verizon Wireless' Global BlackBerry service will set a new standard for global wireless service," said Mike Lanman, vice president and chief marketing officer of Verizon Wireless. "Customers leave the U.S. with the ultimate productivity tool enhanced by a service and support package they won't find anywhere else in the industry. This is the gold standard for the international enterprise, and with its unique blend of form, function and value, we expect this device to quickly become our top selling BlackBerry for domestic use as well."

"The BlackBerry 8830 is built on an exciting new device platform that combines CDMA and GSM/GPRS roaming support with the latest in industrial design and functional innovations," said Mike Lazaridis, president and co-chief executive officer at Research In Motion. "This innovative and stylish smartphone includes all the benefits that users have come to love about the BlackBerry solution along with a compelling new global service from Verizon Wireless."

The BlackBerry 8830 provides an international option for enterprise customers of all Verizon Business groups. The Verizon branded companies offer customers a portfolio of wired and wireless solutions inclusive of the recently announced BroadbandAccess Router Service.

Features and Pricing for the BlackBerry 8830 World Edition Smartphone and Global BlackBerry Service

The new BlackBerry 8830 World Edition smartphone packs the latest features into a stylish global device and offers the following capabilities and features:

EV-DO/GPRS network connection for high-speed data transfer in more than 60 countries

GSM/GPRS (900/1800 MHz) for continued voice and e-mail while traveling internationally

Auto-selection of CDMA/GSM Mode

Thin form factor of just 14mm for both style and easy handling

New Trackball navigation system

Media player

Expandable memory option with microSD™ card (sold separately)

Speakerphone

Bluetooth® capabilities for certain profiles inclusive of hands-free, dial-up networking and serial port

Speaker Independent Voice Recognition (SIVR) for Voice Activated Dialing (VAD)

Instant Messaging capabilities for quick and easy communication

The BlackBerry 8830 World Edition smartphone will be available in May for $299.99 after a $100 rebate with a new two-year customer agreement. An additional $100 credit toward the purchase of the device is available for customers who sign up for qualifying voice and data plans at the time of purchase.

Customers signing up for Global BlackBerry service will get unlimited e-mail in the United States, Canada and more than 60 countries worldwide for $64.99 monthly access with a qualifying voice plan, or for $69.99 monthly access without a voice plan. Customers can also add a "Pay As You Go" data feature to any qualifying voice plan for an additional $20 per Megabyte. Customers wanting to use the BlackBerry 8830 for e-mail solely in the U.S. may opt for an unlimited e-mail plan beginning at $49.99 monthly access.

Customers may request more information on the BlackBerry 8830 World Edition smartphone and Global BlackBerry service from Verizon Wireless at www.verizonwireless.com/global. For more information on BlackBerry devices from Verizon Wireless, visit www.verizonwireless.com/blackberry. Business customers should contact a Verizon Wireless Business Sales Representative directly at 1-800-VZW-4-BIZ.
BlackBerry 8830 Coverage [Gizmodo]