Before Lisa Bonet and the guy with dreads from Stargate Atlantis started dating, the couple we saw when we closed our eyes was actress Rose MacGowan and director Robert Rodriguez. Formed when Robert cheated on his wife of 16 years on the set of Planet Terror, the couple is actually going through with plans to get married, an unholy union that will screw up the bottom lines of two or three companies, and in the process leave America — and us all — worse off.When the names of Rodriguez's children — Rebel, Rocket, Rogue and Racer, and daughter, Rhiannon — were revealed to us so many moons ago, we first began to suspect the director of the best movie made for $5000 ever, El Mariachi...of something.
Is AI Moving Too Fast? | Future Tech
The first salient fact in the case against RR is that George Lucas invited him to Skywalker Ranch after hearing of his interest in effects. Fortunately Trey Parker has done the important job of thinking through exactly what might have occurred that day. Whatever happened, he began using complicated effects done cheaply in his films as he worked with his wife, producer Elizabeth Avellan (right), and their disgustingly named children. To be fair, Rodriguez' half of Grindhouse does have its thrills, including a phenomenal Josh Brolin turn as a sadistic doctor, but McGowan spends most of the film's 90 minute running time practically running in front of the other actresses on screen. And off screen, she was pretty much doing the same thing in front of the married Rodriguez:
"It was the worst-kept secret on the set. They were going off to his trailer, having meals together," our source said. "Rose thought some of the crew were treating her differently, and the attitude was, like, well what do you expect when you're [bleeping] the director?"
G/O Media may get a commission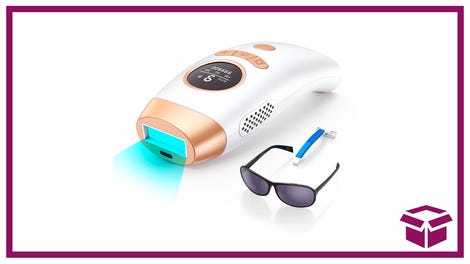 58% Off + Coupon
IPL Hair Removal Device
The two bonded instantly, with McGowan telling People, "He's my best friend. We instantly became really good friends." Rodriguez's better half was apparently hearing what everyone on the set was — as well as people in neighboring municipalities. Production on Planet Terror shut down for almost a month.
For McGowan's Rodriguez-produced 2009 project Red Sonja, her paramour aimed high, choosing the guy who directed the second unit on the new Tekken video game franchise-based flick. Is this how you treat the woman you love? Apparently, yeah. McGowan was flashing around her ring at the Style Awards over the weekend:
"I just want to go to an island somewhere and pay somebody else to deal with it," said McGowan, who wore a $28 Victoria's Secret turtleneck and Fendi shoe boots. "Quentin (Tarantino) is going to be my bridesmaid," she said, laughing. Of the proposal itself, she said, "It was lovely and very personal."
We can stifle our vomit at that, but not at the actress' forthcoming slate. Robert and Rose's idea of coming up with projects consists of seeing if the lead part in a remake looks like McGowan. Does the world really need a $100 million remake of Barbarella? Studio execs decided the role needed a bigger star for the movie to succeed. She moved on from a Susan Cabot movie (based on this John H. Richardson essay: pdf), thinking that if you play a B-movie star, you might just become one, to possibly portraying porn star Linda Lovelace opposite Bill Pullman as Hugh Hefner in Inferno.
The soon-to-be Mrs. McGowan better hope he isn't waiting for the dark McGowan-esque good look of Nick and Norah's Infinite Playlist star Kat Dennings to go legal, because Dennings was caught privately worshiping RR on her blog from the set of Rodriguez's latest film, the kid-friendly Shorts. The coming years will see Rodriguez sticking to his biggest successes — appealing movies for kids. But I swear that if he casts Rose McGowan in The Jetsons, I will become the guy behind the Watchmen protests quicker than he can get the current director of Jonny Quest fired. I will run on a treadmill outsider his Troublemakers Studio, and I will do it for George Jetson, dressed as George Jetson. Mark my words.