f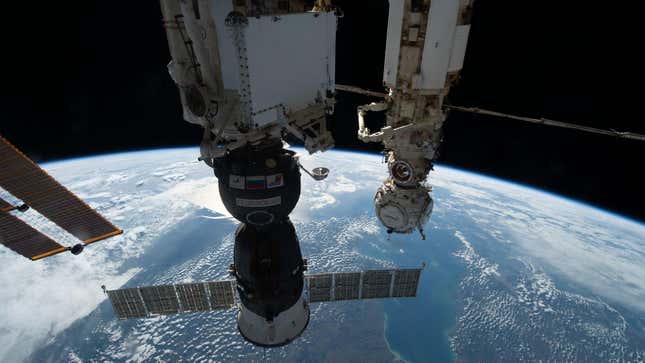 Three Astronauts May Be Stranded on the ISS After Disturbing Soyuz Coolant Leak
Roscosmos says it will launch an uncrewed Soyuz to replace the damaged spacecraft currently docked at the International Space Station. The MS-22 Soyuz sprung a coolant leak in December after being struck by a micrometeorite, as both Roscosmos and NASA are now claiming.

The plan is to launch the replacement MS-23 Soyuz spacecraft on or around February 20, which is several weeks earlier than the original launch date for the mission. The uncrewed MS-23 will be a welcome sight for NASA astronaut Frank Rubio and cosmonauts Sergey Prokopyev and Dmitri Petelin, who are currently without a reliable ride back home.
Their MS-22, docked outside and featuring an unsightly 0.8-millimeter-wide hole in its radiator, was deemed by Roscosmos to be unsafe for a crewed ride back to Earth, as Sergei Krikalev, executive director of human space flight at the Russian space agency, told reporters earlier today. The MS-22, without anyone on board, will eventually be sent home for a landing in Kazakhstan, but not until the MS-23 arrives at the orbital outpost, Krikalev said.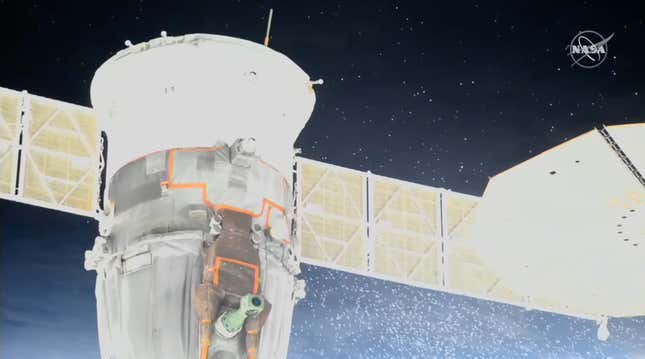 The leak happened on the evening of December 14, with ground controllers noticing a sudden and unexpected drop in pressure readings tied to the cooling loop. With coolant visibly pouring out from the Soyuz, mission managers had little choice but to cancel a scheduled Russian spacewalk. Inspections performed by the Canadarm2 robotic arm on December 18 confirmed the presence of a tiny hole, the cause of which is now being attributed to a micrometeoroid, as opposed to a wayward chunk of space junk.
A (convenient) micrometeoroid
During today's briefing, Joel Montalbano, International Space Station program manager at NASA, said NASA is in "concurrence" with Roscosmos on the matter of the hole being caused by a micrometeoroid. The assessment was based on imagery and high velocity testing performed by Roscosmos, Montalbano said. Krikalev chimed in, saying debris is an unlikely culprit because the object's presumed velocity of 4.4 miles per second (7 kilometers per second) doesn't track with the speed and orbit of the ISS, and that an object moving at this velocity wouldn't stay on the exact same orbit as the space station. This is "why we think it's from a micrometeoroid that came in from a random direction," Krikalev said.

Several reporters asked both Krikalev and Montalbano to clarify this seemingly vague explanation, but the duo, together in Moscow for the briefing, stuck to their script. That the hole was caused by a tiny meteorite is entirely plausible, but Russia's test of an anti-satellite weapon in November 2021, in which a defunct satellite was deliberately destroyed, created thousands of new pieces of orbital debris, many of which continue to threaten the space station. Roscosmos was quick to blame a micrometeoroid for the radiator puncture, potentially out of convenience. Fair to say, we'd all like further clarification on this matter, even if the final verdict affirms a natural source for the coolant leak.
MS-22: Down but not entirely out
MS-23 won't arrive at the ISS until February 20 at the earliest, which means Rubio, Prokopyev, and Petelin are somewhat in the lurch until then. Should the ISS have to be evacuated in the event of an extreme emergency, the trio would have no choice but to risk a journey in the damaged MS-22.
Roscosmos ruled out the MS-22 for not being able to provide the "nominal" conditions for a ride back to Earth, as Krikalev said, but that doesn't mean it couldn't perform the task in the event of an emergency. Temperatures inside the cabin would likely rise to somewhere between 100 and 108 degrees Fahrenheit (high 30s to low 40s Celsius), which is tolerable, Krikalev explained. The problem, he said, would be the combination of this heat and the expected humidity. "We expect some overheating of equipment," he said, enough to potentially knock out the capsule's computer. The Soyuz has "several layers of redundancy," and if the computer fails, it should be able to continue in analog mode, he said. Regardless, this scenario is far from optimal, hence the plan to deliver a replacement vehicle. Returning the MS-22 to Earth without a crew on board is "our primary scenario," Krikalev said.
Don't call it a rescue
Despite the current risk faced by the three crew members, Montalbano said he's not referring to the MS-23 as a "rescue" Soyuz vehicle. He said there's no immediate need for the crew to come home, so "I'm calling it a replacement Soyuz." Naturally, Krikalev agreed. That'd be laughable, if it weren't such a serious issue. In my mind, MS-23 is exactly that—a rescue vehicle, given that the trio, who reached the ISS aboard MS-22 on September 21, 2022, are without a reliable vehicle at the moment. An extreme emergency from now until the arrival of MS-23 is exceptionally unlikely but not impossible.
That said, NASA has been in contact with SpaceX to discuss alternate strategies. A Crew Dragon is currently parked outside, but it's reserved for NASA astronauts Nicole Mann and Josh Cassada, Koichi Wakata of the Japan Aerospace Exploration Agency (JAXA), and Anna Kikina of Roscosmos. Interestingly, and as Montalbano told reporters, it may be possible for the Crew Dragon to accommodate one extra passenger in the event of an emergency, but that would require some special configurations and the removal of some hardware.
A key constraint, said Montalbano, has to do with the respective space suits, as suits are specifically tailored for individual spacecraft. This is why mission planners ruled out the launch of a rescue Crew Dragon. As he told reporters, "the quickest way to get to a safe configuration is to get the replacement Soyuz up there." Looking beyond this mission, Montalbano said NASA is considering a launch-on-need scenario and is working with both SpaceX and Boeing to possibly make this happen. Indeed, that would be ideal—the capacity to launch rescue missions on a moment's notice.
As for repairing the hole in the radiator, Krikalev said it was considered but ruled out. Repairs are not possible, he said, as the hole is in a "very inconvenient place"—an area without handrails or support structures to allow spacewalking crew members to access and work in the area. The required procedure to fix the hole was deemed to be onerous (requiring the use of sealants, for example) and dangerous; it's far less risky to simply replace the damaged vehicle, Krikalev said.

Moving missions to the right
The new plan does present some complications for the schedule makers. MS-23 was supposed to deliver new crew members to the ISS, namely NASA astronaut Loral O'Hara and cosmonauts Nikolai Chub and Oleg Kononenko. They will now presumably have to wait until the MS-24 mission scheduled for later this year. Krikalev said "we are moving missions to the right" and not canceling anything, as mission planners work to get back to the original schedule.
As to when Rubio, Prokopyev, and Petelin will return home, that has not yet been decided. They were supposed to return home in mid-March, but with the replacement MS-23 mission now planned, their stay aboard the ISS could be extended by an "extra several months," Krikalev said. Mission planners have yet to make a decision on the matter, but Krikalev said the crew is in good health and that they should be able to stay on the ISS for a prolonged mission.
Stints aboard the ISS typically last for six months, so it's entirely possible that the trio will stay on the station for an entire year. The MS-22 crew is "prepared to stay for a September launch date or leave earlier if required," Montalbano said. "They're ready to go with whatever decision we give them."