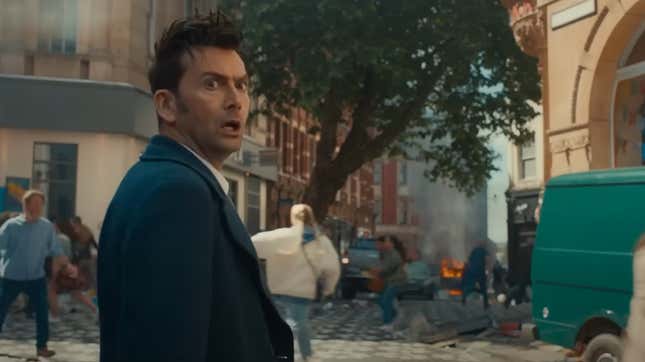 Doctor Who has always rather infamously been a show with ideas far beyond the budgetary constraints of an ailing public broadcaster—a mainstay in the realm of wobbly sets and dodgy alien costumes. It's a reputation that's persisted even into its modern era. But as sci-fi TV becomes more and more lavish, that's about to change.

Don't Mess With Luthen and His Fricking Lasership | Andor Review
When news hit that Disney had acquired worldwide streaming rights to the upcoming seasons of Doctor Who last year, there were likewise reports that the House of Mouse's investment in the show would go beyond simply broadcast rights outside of the UK, and include funneling some of its vast, vast, vast quantities of cash into the show itself. While it's still up in the air whether or not Disney will have some form of input on Who creatively, incoming/returning showrunner Russell T. Davies did confirm at least that he's working with more than he did when he previously helmed Doctor Who thanks to the studio's investment.
"But now, it wasn't my idea, it was the BBC's notion to go for a streamer to invest in the show worldwide, which I completely agree with. We're not on the budget level with Star Wars and the Marvel shows," Davies recently told GQ. "It's better than it was, yes yes yes. I mean any piece of television costs millions. We're not allowed to talk about budget, and we're not on that Star Wars or Star Trek level, but it's more than I've ever had to work with... it's not 10 million an episode. It's absolutely not. I wish it was, it'd make my life easier. But we're very clever at spending money, I think Doctor Who has learnt more tricks over the years than other shows have, perhaps."
It might not be bordering the eye-watering per-episode costs we've seen out of some recent genre series, but the chance for Doctor Who to actually have at least some money to match its ambitions is a compelling one. And it makes a level of sense for Disney to help invest that money alongside its acquistion of the show's streaming rights. After all, Doctor Who is going to share streaming space with shows like The Mandalorian and the MCU's televisual output—TV created by massive movie studios with the apparatus and financial reach to make their output look as lavish as their big-screen endeavors.
"[The budget is] one of the reasons I've come back — you can tell stories on a bigger scale. It's the same old problems, I still have to cut scenes because they're too expensive, and I still have to reduce the number of monsters, and things like that," Davies continued. "But my imagination feels more free, a lot more free, actually. It's just a joy to write anyway. I'm really proud of it. Oh my god, there are some strong episodes coming up."
Doctor Who returns to the BBC in the UK and debuts on Disney+ everywhere else later this year.
---
Want more io9 news? Check out when to expect the latest Marvel, Star Wars, and Star Trek releases, what's next for the DC Universe on film and TV, and everything you need to know about the future of Doctor Who.