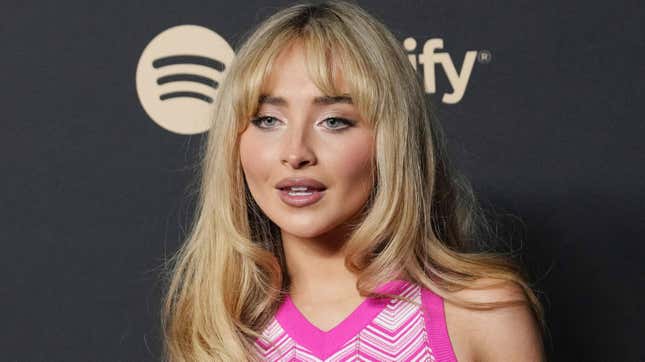 The BBC apparently isn't a fan of porn puns, especially ones that pertain to its own name. A live performance by Sabrina Carpenter was cut a tiny bit shorter after it was uploaded to YouTube, removing the singer's riff at the very end that refers to an obvious sexual innuendo.
Last week, Carpenter performed her hit song Nonsense on BBC Radio 1. At the end of the song, the former Disney Channel star finished with a brief ad lib that went, "How quickly can you take your clothes off, pop quiz. I'm American I am not British, so BBC it stands for something different. This live lounge is so lit because I'm in it, innit."
As predictable as it is, the freestyle does go kind of hard. But the BBC double entendre, which stands for a problematic porn trope, did not sit well with the British Broadcasting Corporation. Shortly after a video recording of the live performance was uploaded to YouTube, it was briefly taken down and replaced with an edited version that did not include the spicy joke.
"An unedited version of the video was briefly posted in error, and the correct version is now available for viewers to enjoy," a BBC Radio 1 spokesperson told Billboard.
Fans of Carpenter are familiar with the 23-year-old's habit of improvising at the end of her song Nonsense where she clearly admits, "I'll be honest (honest). Lookin' at you got me thinkin' nonsense," in the lyrics. Carpenter's fans also came to her defense in the comments below the YouTube video, with one person writing, "It's her song she can say what she wants. If there's any British people offended………. Get over it lol," and another exclaiming, "WE WILL NEVER FORGET."