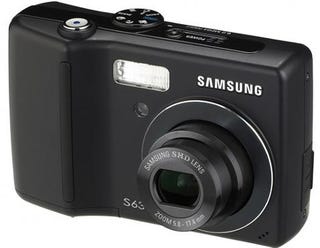 Samsung introduced five new models today. (All will be available in "spring of 2007," says Sammy.) In addition to the way-cool looking L73, it brought out the 8-megapixel S850 ($250) and10.1-megapixel S1050 ($350). These cams lack the face detection of the L73, but they do sport handy 5X zoom lenses (vs. 3X on the L73).
Rounding out the line are the nice-looking but unremarkably equipped 6-megapixel S630 ($180) and 7-megapixel S730 ($200). They have standard features like 3X optical zoom and 2.5-inch LCDs.
All the new models also features Samsung's new "Wise Shot," which takes two pictures consecutively - one with flash on and one with it off but with the ISO pumped up (as high as ISO 1600) to keep the shutter speed high and minimize blur from camera shake.