I'm not going to say the PC is dying, that would be ridiculous. But over the last 10 years, there are certain segments of the computer market that have been declining, like tablets, netbooks, and depending on how you look at it, the traditional clamshell laptop. In the meantime, there's been a new generation of more flexible and more mobile detachables, 2-in-1s, and hybrids that have taken place. And that's exactly what Samsung is hoping to address with the new Galaxy Book 2.
Now with its detachable keyboard and built-in kickstand, the Galaxy Book 2's design isn't all that exciting. But in the six years since the original Surface came out, this form factor has basically become the default for all manner of portable hybrids. What Samsung is doing differently on the Galaxy Book 2 is going for super long battery life (with claims of up to 20 hours on a charge), always-on connectivity via built-in LTE, and actually including the system's keyboard and pen in the box at no extra charge.
Samsung plans to deliver on those claims mean that instead of using a typical Intel or AMD processor, the Galaxy Book 2 uses Qualcomm's Snadragon 850 chip. This is a somewhat dicey proposition because while the Snapdragon 835 in Asus Nova Go I reviewed earlier this year offered tons of battery life, its performance felt a little too anemic to be considered a true everyday workhorse. However, with a new generation of silicon and number of Windows updates that have improved Snapdragon on Windows compatibility, we could be looking at major real-world gains for non-x86 Windows machines.
Elsewhere, the Galaxy Book 2's specs are about what you'd expect for a $1,000 system including 4GB of RAM, 128GB of storage, and a dual slot SIM tray with microSD card expandability. Samsung has also carried over a bit of its smartphone and tablet expertise as well when it comes to the Galaxy Book 2's 12-inch 2160 x 1440 Super AMOLED display, which definitely provides the extra rich colors you'd expect from a screen like this.
G/O Media may get a commission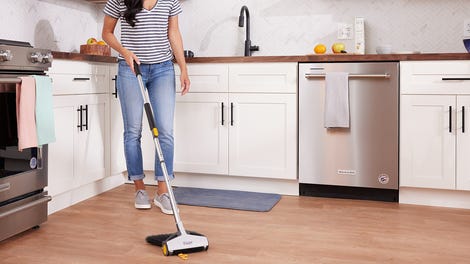 BOGO 50% Off
Flippr - BOGO 50% Off
Around back, there's an 8-MP rear camera next to the Galaxy Book 2's fingerprint reader, which seems to me like a bit of an awkward location. While you'd probably get used to reaching around the top of the Galaxy Book to unlock the system, if you miss, you're almost sure to smudge up the camera lens with fingerprints. On its sides, the also Galaxy Book 2 offers two USB-C ports and a headphone jack. Though if you have any peripherals that use USB-A, you're going to need a dongle, which sadly does not come included.
Compared to the previous Galaxy Book, the second-gen model's new kickstand is way more stable and makes it much easier to adjust the screen's angle, and despite its detachable nature, the Galaxy Book 2's keys have an ample amount of spring and key travel. Meanwhile, the included S-Pen supports all your standard Windows Inking abilities with 4,096 levels of pressure sensitivity, in addition to a handful of traditional Samsung S Pen Air Commands including smart select and screen write, but no built-in GIF making functions like you get on a Galaxy Note 9.
In my short time with the Galaxy Book 2, Samsung's machine appears to be a competent Surface Pro competitor, and I really like that Samsung decided to toss the pen and keyboard in the box unlike what Microsoft and Apple do on for their Surfaces and iPad Pros. But in the end, the Galaxy Book 2 is going to live and die upon its ability to deliver those sky-high battery claims and performance that doesn't feel like it's lacking in speed, both things that will require a little more in-depth testing to determine.
The Galaxy Book 2 goes on sale November 2nd for $1,000 and will be available online from Samsung and Microsoft, as well as in carrier stores such as Verizon, AT&T, and Sprint.