On September 30th, 2015, the Rosetta spacecraft slowly drifted to the surface of Comet 67P/Churyumov–Gerasimenko, ending a wildly successful 12-year mission. Scientists from the European Space Agency thought they had recovered all of Rosetta's photos, but a re-analysis of the spacecraft's final transmission has revealed a final blurry photo taken just a few feet from the surface.

Like a ghost crying out from the grave, this blurry image comes to us nearly two years after the Rosetta mission came to an end. The photograph was taken as the spacecraft slowly descended towards the comet's surface, approaching a 425 foot (135 meter) wide pit called Deir el-Medina. This final site was chosen because the pits in this region have "goosebump" features that are thought to represent the fundamental building blocks of the comet.
During its descent, Rosetta transmitted a steady stream of images and measurements of the comet's gas, dust, and plasma. ESA scientists thought they had collected everything, but a reanalysis of the data showed the dead spacecraft still had one final photo to offer.

"The last complete image transmitted from Rosetta was the final one that we saw arriving back on Earth in one piece moments before the touchdown," said Holger Sierks, principal investigator for the OSIRIS camera at the Max Planck Institute for Solar System Research, in a statement. "Later, we found a few telemetry packets on our server and thought, wow, that could be another image."
G/O Media may get a commission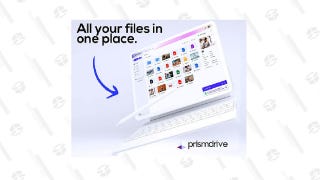 Save 97%
Prism Drive Secure Cloud Storage: Lifetime Subscription
Here's what happened: a computer on board Rosetta split images into telemetry packets prior to transmission back to Earth. Its final image was supposed to be split into six discrete packets, each consisting of about 23,048 bytes of data. ESA scientists had only received three of the six packets, which contained just slightly above half of the required total. At the time, software used to process the image couldn't make heads or tails of the data. Not content to give up, engineers at the Max Planck Institute decided to manually re-assess the data, finding that they could actually take these data fragments and piece together a coherent image.
Thankfully, Rosetta's compression software did not pack the image pixel-by-pixel, instead encoding it layer-by-layer. This meant the picture could be recompiled, but with much of the detail missing. With half of the data received, the scientists were dealing with a compression ratio of 1:38 compared to the expected 1:20. This meant the compression was lossy, but not catastrophically lossy. Think of an MP3 with a bit rate reduced down to 96 Kbps instead of 320 Kbps; sure it sounds super shitty, but you can still make out the music. In the case of the Rosetta images, this "added" compression translated to a coherent—but blurry—picture.
Rosetta's final image was taken a distance between 55 to 65 feet (17 to 20 meters), which corresponds to a 10-square-foot (one-square-meter) region on the comet surface. That's pretty close! At that distance, Rosetta's camera couldn't really focus (it wasn't designed for that), so the final picture would have been blurry to begin with.
Thanks, Rosetta for this one last hurrah. It may be grainy and blurry, but it's still a glorious photo.
[ESA]