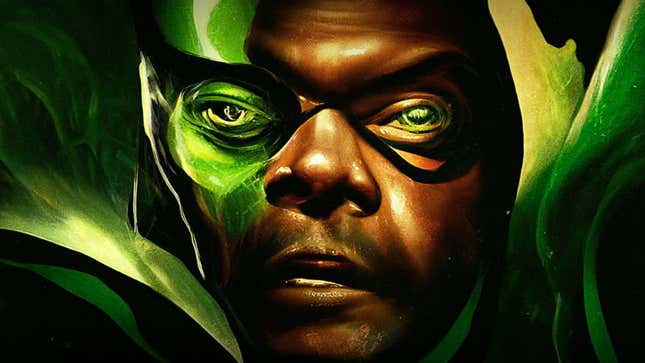 If you hopped on Disney+ this morning to see what Nick Fury and his frenemies were up to in Marvel's Secret Invasion, you might have noticed something a little off about the series' opening title sequence. It looks strange to your mind's eye, and for good reason: it's one of the first major shows to use AI-generated art in such a way.

What Rules Were Written for Skrulls and Their Powers in Secret Invasion? | io9 Interview
The titles were developed by Method Studios—which has previously worked with Marvel on Disney+ streaming series Moon Knight, Ms. Marvel, and Loki. But while its work on those was seemingly on the more traditional side of VFX production (Method's website cites work on Loki that includes 3D character animation, set extensions, and virtual set designs), it was approached for Secret Invasion to instead use AI-generated imagery for use in the titles—ghoulish, ever-morphing green-hued locales and figures that shape-shift between disguises and Skrull personas.
That hazy surreality was the intention behind using AI-generated imagery. "When we reached out to the AI vendors, that was part of it," Secret Invasion producer Ali Selim told Polygon, who first confirmed the AI nature of the sequence. "It just came right out of the shape-shifting, Skrull world identity, you know? Who did this? Who is this?"
However, what "makes sense" for a series about shapeshifting superspy hijinks and the actual reality of the controversies around AI-generated imagery are two very different things. There is a level of obfuscation about the process around this sequence and just what tools were used, and how. In the same Polygon interview, Selim simply states, citing a lack of awareness about how A.I. technology works, that "the computer would go off and do something," and the team behind the sequence would tweak and alter the response with new prompts. Secret Invasion's end credits—which note that 12 VFX studios, including Method, worked on the show—only credit a handful of producers and an art director, as well as a single animator, an AI director, a VFX director, and a concept credit.
But in a world where creatives have repeatedly pushed back against commercial usage of tools like DALL-E and Midjourney—citing concerns of displacing jobs for human artists; plagiarism from databases trained on uncredited, stolen artwork; ethical crediting practices; and more, both in the worlds of art and cinema in general, as the ongoing writers' strike has made AI content protections a key part of union demands—Secret Invasion's title sequence is a scary line to cross. This is a major Marvel Studios production using the current tools of AI-generated imagery on a scale no other mainstream show has right now, and while it's not uncommon for various VFX and art teams to not know what other teams are working on aspects of the same series, there are already artists who worked on Secret Invasion expressing shock and concerns at the show's use of AI technology.
With the process as currently oblique as it is—io9 has reached out to Marvel for comment on how Secret Invasion utilized AI, and will update this post if we receive a response—it's hard to say just what could come next from Marvel's use of AI in this manner, or what it says to the industry at large. But at a time when the studio, among many others Hollywood, has faced increasing scrutiny for the pressure it places on VFX studios for its overwhelming output of content, AI is risky territory for Marvel to step into. "It felt explorative and inevitable, and exciting, and different," Selim concludes while talking to Polygon—a comment that will no doubt wring hollow and chilling to creatives concerned by AI imagery's growing presence.
---
Want more io9 news? Check out when to expect the latest Marvel, Star Wars, and Star Trek releases, what's next for the DC Universe on film and TV, and everything you need to know about the future of Doctor Who.