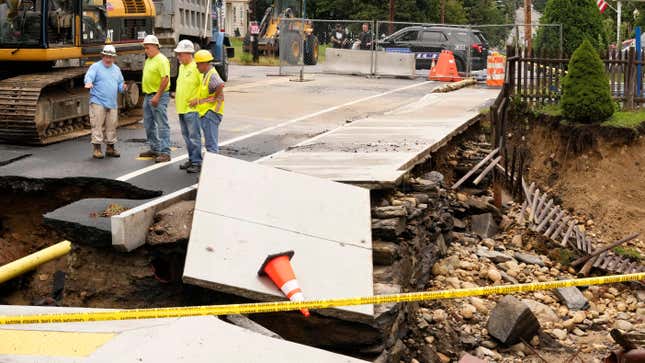 Heavy rainfall this week over Massachusetts and Rhode Island washed away roads, collapsed homes, and created large sinkholes throughout the region.
The rainfall event dropped almost 10 inches of rain over parts of Massachusetts and Rhode Island in only a few hours. National Weather Service Meteorologist, Matthew Belk, called this a "200-year event," the Associated Press reported. Leominster Mayor Dean Mazzarella told the press that the damage that has followed the flooding this week will probably take weeks to repair. He said that the damage to infrastructure is estimated to be anywhere from $25 to $40 million, WCVB-TV reported. "That's just city infrastructure," Mazzarella said. "We're trying to work on what assistance we can get to our businesses and our homeowners."
Heavy rainfall like this is becoming increasingly common. The Boston area recently saw its second wettest summer on record, with about 20 inches of rainfall in the last three months, WBUR reported. Legacy stormwater drainage systems in the area are not made to handle the extra rainfall, which only worsens the damage seen in flooded areas.
New England is in for more stormy weather as soon as this weekend. Hurricane Lee formed earlier this month and has moved up the Atlantic coast without making landfall. Federal forecasters said that the storm could affect both New England and coastal Canada by this weekend and possibly into early next week. Coastal parts of Massachusetts are expected to begin seeing "life-threatening storm surge flooding," tomorrow evening, according to the National Weather Service Prediction Center.
"Impacts are expected to be greatest across Cape Cod, where winds may gust as high as 50-60mph," the National Weather Service Boston station tweeted earlier today.
See photos of the aftermath in Leominster, Massachusetts this week following the heavy rainfall and flooding:
Want more climate and environment stories? Check out Earther's guides to decarbonizing your home, divesting from fossil fuels, packing a disaster go bag, and overcoming climate dread. And don't miss our coverage of the latest IPCC climate report, the future of carbon dioxide removal, and the invasive bugs you should squash on sight.