Federal lawmakers are now calling for Mark Zuckerberg to personally testify before Congress after bombshell reports revealed late last week that the shadowy political consultancy Cambridge Analytica acquired personal information on as many as 50 million Facebook users, many without their explicit permission.
Facebook remains under fire as British and American authorities are demanding an explanation, not only as to how Cambridge Analytica gained access to Facebook's data, but as for why it took years for Facebook to notify the public.
Sen. Mark Warner, vice chairman of the Senate Select Committee on Intelligence, tweeted Tuesday morning it was time for "Mr. Zuckerberg and other CEOs" to testify before Congress. "The American people deserve answers about social media manipulation in the 2016 election," he said.
Sen. Dianne Feinstein, the top Democrat on the Senate Judiciary Committee, reportedly echoed Warner's call while speaking with reporters Tuesday morning, saying that legislation may be required "if the industry won't solve these kinds of problems themselves."
G/O Media may get a commission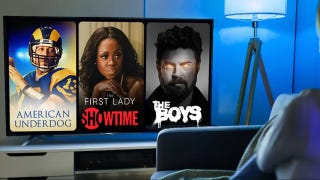 UNDER $1
99¢ Prime Video Channels
Sen. Feinstein told Gizmodo by email that she was concerned that Cambridge Analytica may have used private Facebook data to assist the Trump campaign. (The firm, founded in 2013 with backing from the billionaire Republican donor Robert Mercer, consulted for Trump during the 2016 election.)
Feinstein said the Senate Judiciary Committee needed to hear from Cambridge Analytica, the Trump campaign, and Christopher Wylie, the whistleblower and former Cambridge Analytica employee who brought to light the misuse of Facebook's data.
"It would also be helpful for Facebook to testify about how the company protects user privacy and what steps it's taking to combat bad actors," Feinstein added. "We have a lot of questions about how this information was used, whether it was given to Russia and whether Cambridge Analytica and the Trump campaign communicated with WikiLeaks. These questions need answers."
Revealed on Monday, an undercover string orchestrated by British reporters at Channel 4 News caught CEO Alexander Nix and other executives boasting about using fake news, bribes, and sex workers to target politicians. At one point in the video, Nix suggests the consultancy might "send some girls around to the candidate's house, we have lots of history of things."
Video evidence notwithstanding, Cambridge Analytica has denied ever using honey-pots or offers of bribes to entrap political opponents.
Facebook did not respond to an inquiry regarding the potential for Zuckerberg to testify in person, pointing instead to a statement issued yesterday by Facebook vice president and deputy general counsel, Paul Grewal: "We are in the process of conducting a comprehensive internal and external review as we work to determine the accuracy of the claims that the Facebook data in question still exists. That is where our focus lies as we remain committed to vigorously enforcing our policies to protect people's information."
It's unclear how far a Facebook investigation into Cambridge Analytica's misuse of user data could actually get at the moment. Facebook said it dispatched forensic auditors from the firm Stroz Friedberg to Cambridge Analytica's London offices yesterday evening. However, the UK's Information Commissioner's Office reportedly ordered the auditors to leave the premises, pending a warrant granting British authorities access to the company's computers and servers.
If US lawmakers won't compel Zuckerberg to testify, the British House of Commons may try instead. In letter circulated via Twitter, British lawmakers have requested that Zuckerberg "appear before us to give oral evidence."

During hearings last fall into Moscow's use of Facebook and other social media to influence US voters, Zuckerberg's absence was glaring. Sen. Angus King, a Maine independent who caucuses with the Democrats for committee purposes, memorably chided the CEOs of Facebook, Twitter, and Google during a November intelligence hearing.
"I'm disappointed that you're here and not your CEOs," King told a group of corporate attorneys. "We would appreciate seeing the top people who are actually making the decisions." Sen. Joe Manchin echoed the same: "I wish that your CEOs would be here. They need to answer for this."
But beyond the shellacking Facebook is suffering on Wall Street—the company's stock price is down another 5 percent today, as of this writing, following a precipitous drop on Monday—it's hard to say whether anyone will "answer for this." Zuckerberg's net worth reportedly dropped by around $5 billion by end-of-business Monday, but according to MarketWatch, a financial website run by Dow Jones & Company, Zuckerberg sold roughly 5 million Facebook shares this year already, potentially saving him up to $40 million in losses.
According to Bloomberg's sources, the Federal Trade Commission (FTC) has begun probing whether the social media company had violated a 2012 consent decree over the use of personal data. The FTC told Gizmodo that it could neither confirm nor deny an investigation was underway, adding it takes all allegations regarding violations of its consent decrees seriously.

Facebook's deputy chief privacy officer reportedly told Reuters that the company would "appreciate the opportunity" to answer any questions the FTC might have.
Senators Richard Burr and Chuck Grassley, the top Republicans on the Senate intelligence and judiciary committees, respectively, did not immediately respond to a request for comment.
Got a tip about Facebook? Contact the reporter at dell@gizmodo.com.
Correction: A previous version of this article misspelled Cambridge Analytica whistleblower Christopher Wylie's last name as "Wiley." We regret the error.