Huzzah, your bookworm reputation precedes you, and some kind soul gifted you a shiny Kindle Fire. Here's how to set it up properly—so you don't get burned.
Cover: Start It Up
First off, let's turn it on. Should be simple enough considering there's only one physical button on the darn thing. Just hold it down for a few seconds and you'll see the Kindle Fire logo. Now, I bet you're just itching to plug it in and charge it. Don't do that! Here's a little secret: Let your battery die before you reach for an outlet. You should try to do this all the time, but this is especially important during the first charge cycle. Here's an article that explains why. The short version is that your battery will last longer if allowed to die between charges. Plugging it in when it's half charged will degrade the life of the battery.
Prologue: Log In
If the Kindle Fire was a gift from someone else (there is no shame buying gifts for yourself!) you'll need to add your Amazon account to the device. Which, again, easy.
G/O Media may get a commission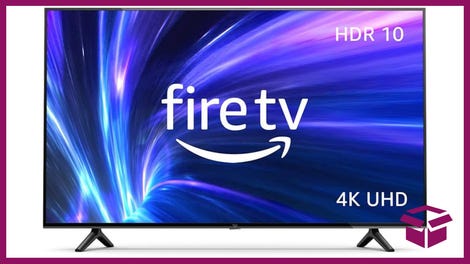 42% Off
Amazon Fire TV 50" 4K Smart TV
In the top right hand corner you'll see a gear. That gear is where you'll access all of your Kindle Fire's settings. Tap the Wi-Fi setting and hop on your network.
Next you'll need to add your Amazon account. Tap the settings gear again. Tap on More and navigate to My Account. Add your account. This is how you'll purchase books, apps from the Amazon App Store, and watch streaming videos from Amazon Instant Videos.
If you don't have an Amazon account yet, what's wrong with you? Also, your best bet is to set one up from your computer before Firing away. Get it? Fire-ing.
Chapter One: Navigation
The Kindle Fire is an Android device, but not in the usual sense. It's a customized variant of Android created by Amazon. Like Apple, Amazon wants tight control over your user experience. The UI is different from any other Android device on the market.
Basically, your entire experience is going to revolve around a "bookshelf" that greets you when you power on your device. Recently accessed items are stored in a carousel at the top of the bookshelf, while user-added favorites are stored on the shelves below. Want to add an book or magazine or app to your favorites? Just tap and its icon and you'll be given the option to Add to Favorites. All of your other content is huddled at a menu bar at the top of the screen below the search field.
Besides the power/wake up button, there are no physical buttons. Once you launch an app, a menu bar appears at the bottom of the screen. If it disappears, just tap the screen and it'll reappear. The Home button returns you to—you guessed it—home. The icon that looks like a piece of paper with writing on it gives you access to settings for a given app. And the magnifying glass is for searches.
Chapter Two: Books and Magazines
This is why you wanted a Kindle Fire in the first place right? Just tap Books>Store and you're in the Kindle bookstore. If you're already a Kindle customer, Amazon starts you off with some suggestions. If you still love actual real-life physical books and you're using the Kindle more for browsing and apps, you can compare dead tree and ebook prices.
You can also find magazine subscriptions in the Bookstore, which tend to be mostly glorified PDFs of the print versions, although some mags include the bells and whistles you might be used to from the iPad.
While Amazon's books are wrapped in their DRM, they can be read from pretty much any device you own. If you leave your Kindle Fire at home, you can continue reading your book on your Mac, PC, smartphone, and tablet. Amazon has apps for all these devices and no matter where you read your book, if you're connected to the Internet, it will magically sync your place in your book on all of your other devices.
Now might be a good time to mention that if you're not an Amazon Prime member, you should be. You can borrow books with the Kindle Owner's Lending Library, accessible directly from Kindle Fire in the Amazon Bookstore. You'll find it along the right side of the page. Not all books are available to borrow, and the pickings can be slim. But, with some diligence, you'll find some gems—Philip Roth, Michael Lewis, the Hunger Games trilogy—that you can download one of a month, for free.
Finally, you can borrow books from your local public library if it supports Overdrive. Navigate to your local library's site and select a book that's available to be borrowed electronically. You'll need a library card to do this, so you should head to the actual library and get a card if you don't already have one. Once you find a book, select "Get for Kindle." You'll be directed to Amazon's site and required to log into your account. After that, the book will be delivered wirelessly to your device. Like the real world, your local library has limited copies of any given ebook available for checkout. For popular titles, you'll probably have to place yourself on a waiting list.
Chapter Three: Apps
If you want to make it in this tablet-crazy world, you're going to need apps. Unlike other Android devices, you won't be able to purchase apps directly from the Android Marketplace. Instead, you'll be directed to Amazon's curated Appstore. The market is smaller Google's official bazaar, but like Apple, Amazon doesn't want you downloading something that could potentially harm your device or steal your identity.
That said, there is a way to side-load third-party apps onto the device. Head to Settings>More>Device. Switch "Allow Installation of Applications" on. You'll be warned that your personal data will be less secure and you risk unexpected behavior if you do this. But it's worth it to be able to install apps from third-party sites. Oh, but word of warning: you still won't be able to sign into the Android Marketplace on your Kindle Fire. To do that would require rooting, which hasn't been possible since the Kindle Fire's most recent update. Unless, uh, you're sneaky.
Epilogue: Protection
You're walking around with a piece of glass and plastic, you might want to protect it in case you drop it during a particularly rousing game of Angry Birds. Lucky for you, there are already numerous Kindle Fire cases available, both from Amazon itself and reliable third-party vendors like Timbuk2. Might I recommend the adorable faux-book look? So appropriate, given the contents.