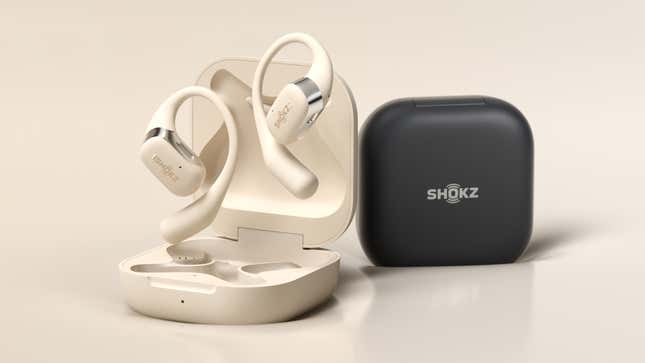 Although far more convenient to carry around than a set of over-ear headphones, wireless earbuds can often become uncomfortable when crammed into your ears for hours. With its new OpenFit wireless earbuds, Shokz is promising all day comfort via an open-ear design that ensures you can also hear everything going on around you, even with your music cranked. They're the company's first pair of wireless earbuds.
Learning Sign Language for The Last of Us
The Shokz OpenFit are available starting today in either a beige or black finish for $180 through Amazon or the company's own online store.
It was assumed that the post-pandemic return to office life would bring an end t0 days packed full of video calls with colleagues, but has not happened. To make it easier to quickly navigate between online conversations and those happening IRL, wireless earbud makers have started improving the ambient sound boosting capabilities of these devices so users never have to take them out while at work. But talking to someone face to face while their voice is artificially boosted through earbuds isn't exactly a natural interaction.
A year ago, Sony tried to solve this with its LinkBuds earbuds that featured a donut-shaped driver with a hole in the middle, allowing ambient sounds, including face to face conversations, to come through while the earbuds were being worn and used.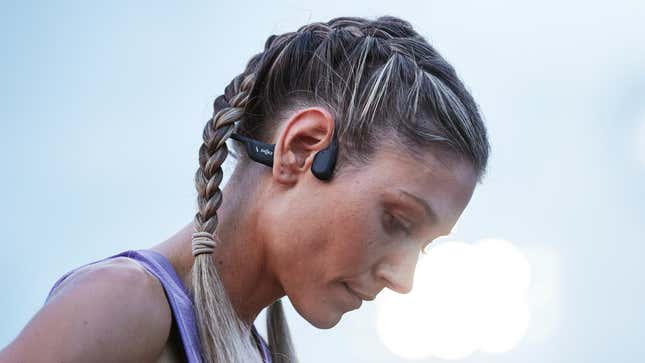 Shokz has been offering ambient noise capabilities for years with its wireless wraparound headphones that rely on bone conduction technology. Instead of delivering sound to the eardrum via soundwaves in the ear canal, bone conduction uses transducers, positioned on the user's temples, to send vibrations through their cheekbones. Wearers' ears are left open.

The bone conduction approach requires those transducers to be pressed against the temples, so all of Shokz's wireless headphones use a flexible band that circles the back of the head. It's a design challenge that has so far prevented bone conduction technology to be implemented in wireless earbuds that individually attach to each ear, but the company has come up with an alternate solution.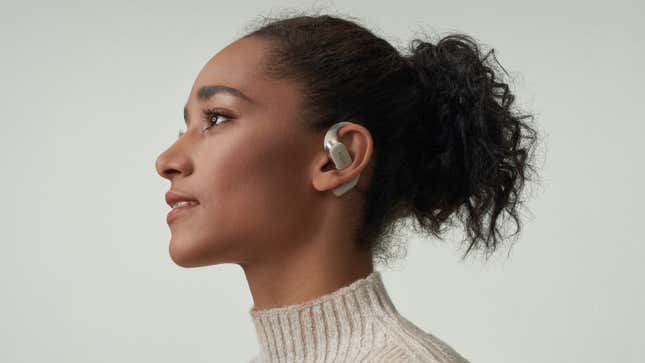 There are some compromises to the open-ear earbuds approach. For starters, the OpenFit aren't going to sound as good as in-ear earbuds or over-ear headphones when listening to music, and bass performance is probably going to feel a little lacking even with features like OpenBass, which Shokz describes as a "proprietary low-frequency enhancement algorithm." The OpenFit also don't offer any noise cancelling to the user—which would defeat the purpose of their open-ear design—but will remove unwanted background sounds for the person on the other end of a phone call.
The Shokz OpenFit are reminiscent of the Powerbeats Pro earbuds from Beats that use an ear hook to help them stay in place during vigorous activities. On the OpenFit, Shokz calls it the "Dolphin Arc Ear Hook," and it's made from a soft silicone material with a metal wire at its core. It functions like a gentle spring to hug and hold on to the wearer's ear.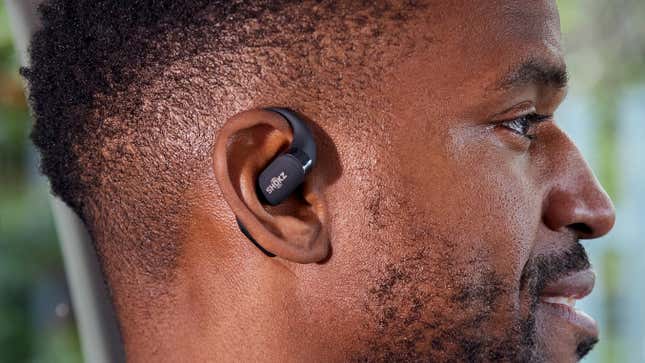 Where the OpenFit differ from Shokz's bone-conducting products is through the use of something the company calls, "air conduction technology." The earbuds are designed to sit just inside the user's ear, even farther out than Apple's AirPods do, where they project sound towards the ear canal with minimal physical contact. This has two benefits: it will help the OpenFit feel more comfortable when worn, and it won't block the ear canal, allowing other outside sounds to easily reach the eardrum. But unlike holding a Bluetooth speaker up to your ear, others around you shouldn't be able to hear what you're listening to through the OpenFit.
Shokz is promising up to seven hours of listening time with the OpenFit alone, or up to 28 hours with the included case that allows for several recharges. It will take about an hour to fully recharge a dead pair of the earbuds using the case, but a quick five minute charge will provide up to an hour of listening.