Took this with my Canon Rebel XS and my 50mm 1.8 II. I love taking pictures of urban decay already. Seeing the world fall apart and come together over time, it's incredibly interesting. I was wandering around taking photos for my photography class and for myself and I stumbled upon two buildings next to each other that were equally falling apart. One building was literally alive with numerous plants growing laterally out of it. the next was rusted beyond recognition with broken windows and peeling white paint... I had too many to choose from but I liked this photo because of the depth and the patterns, I thought it characterized urban decay pretty well. Until next time.
- Adam Thompson
Hi, hope you'll accept this submission.
The idea was to capture a symbol of moral urban decay that is representative of personal regression. Liquor stores are unlikely to fall into disuse during tough economic times. But this one has, and there may be some hope embedded in that. Maybe people are drinking less and doing more. Perhaps people are more optimistic about their own futures, turning away from alcohol and towards something productive, even in neighborhoods hit hardest by a failing economy.
G/O Media may get a commission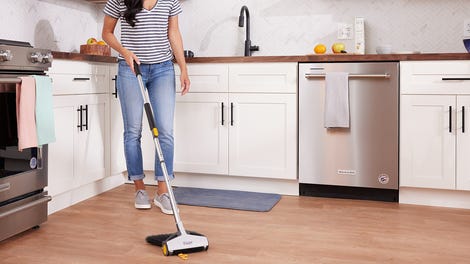 BOGO 50% Off
Flippr - BOGO 50% Off
The reasons for this could be better schools, a better President, or anything else positive, but as a symbol with old meanings in decay, to me it represents something optimistic.
Camera: Rebel EO5
Aperature: 4.0
Shutter: 1/1600
Lens: 58mm
Location: Bed-Sty, Brooklyn
Thanks,
-Tim

Hey Gizmodo,
Here is my (last minute) submission for the Urban Decay challenge.
Photo Details:
Canon Rebel T1i, Canon EF-S 18-55 IS, f/3.5, ISO 200, 1/8 second
When this challenge was announced, I knew I wouldn't have any trouble finding material to shoot. Montreal is a beautiful city, but it's infrastructure is crumbling and there is evidence of it all around. For my shot, I headed north to a neighbourhood called Mile End. It's somewhere that I frequent for nightlife and great live music. But it was this old, abandoned warehouse that caught my eye. It stands out from afar, with nothing coming close to it's height in the near vicinity. It is decrepit and derelict, yet there is something about it that draws you in. It was dusk when I took this shot, and the sun setting below the windows of the building did not give me an easy feeling while walking around inside, not knowing what, or who else I would find lurking around. I will definitely return during the day to take some more shots of the graffiti art that covers the building from wall to wall.
- Josh Davidson
Story:
I took my family to NYC to see a show, keeping my trusty Canon SX200 (with CHDK of course) handy. Between shots of the kids doing fun things, I saw amazing textures on the sidewalk. There – in the middle of a rebuild was urban decay. But not for long . . . I bet by the end of the week – this scene will be just more Belgian Block sidewalk.
Canon PowerShot SX200
F: f3/4
ISO: 125
EV: 0
-John Remmler
This former service station is on a major street in a transitional-industrial area of Philadelphia, just a block away from a rapidly gentrifying neighborhood. The lot is surrounded by a chain link fence topped with razor wire, which clearly wasn't enough to keep out the neighborhood artists. This was my first shot out of about 30 taken at sunset. I used my S95's internal tilt-shift program and tweaked the color saturation and shadows in Picnik.
Canon S95, ISO 200, 1/60, f2.0, internal tilt-shift program.
-Melissa Curry
Fujifilm s100fs — F4.7 — 1/800" — ISO 100 — 63mm — Velvia film simulation
As I was exploring Sunday morning, looking for the usual signs of urban decay, I came across something that was enjoying a slightly different type of urban decay — a Black Vulture raiding a dumpster.
-Mike Case
Title: "Street Worn Camel"
Camera: Nikon FM2 55mm lens 1/60 sec
Film: Fuji Chrome Velvia 50
Street worn urban debris has fascinated me for decades. Muffler cases flattened and burnished by street traffic, discarded workman gloves, and cigarette boxes are but
a few examples of the endless array of found items I have utilized as an artist. I found this particular Camel Box to have just the the right amount of decay, form, and texture to send your way.
All the Best
- Gary Stubelick
For this week's challenge I took a photo of a paint chipping away from a concrete wall from a building near my office. What I really like about this photo is how you can see the different layers of paint and material that have been placed over the original concrete.
I took this shot with my iPhone 3GS, using the Camera+ app. In Camera+ I used the stabilizer mode to take the photo. After the picture was imported into my Aperture library, I used Nik's Color Efx to add some tonal contrast to the image.
-Robert Nakama
Photo Taken in Wichita, KS with d5000 f/5.6 Aperture Priority mode
18-55mm lens, composed from three pictures taken in RAW. I used
Luminance 2.1 to Create 3 separate HDR images. I converted RAW files
to jpeg Using Lightroom. Gimp was employed to combine the original
image with the HDR images.
I took this image in front of what was originally a train station. It
had long since been sold to various businesses and is currently home
to nothing. The chain on the post had been used to keep unwanted
traffic out of the area in front of the building, however it now sits
unused, rusting in the elements.
-Dan Cocking
Sony A55
f/4.5
1/30sec
1600 ISO
Focal 22mm
This was a local institution called, "Mary's" in the Montrose in Houston, Texas. It inexplicably closed several years ago and painted over. As you can tell by the mural (that was recreated for gay pride) shows a cast of characters that regularly. And yes, that includes the cat in the picture that was named "Big Balls." Long story.
How I miss this place.
-Rick Villareal
This was part of a photo taken on my way home from a quick walk to the park. I pass by this particular dumpster very often and if I were to hazard a guess, I would say that it's contents are accurately labelled on the side. Usually there's a nicer car parked behind it so I was hoping to catch that but the Jeep was suitable.
I over processed this one, but wanted to get a submission in by the morning.
I used my Sony A55 with my 18-70 F3.5-5.6 @ 55mm ISO 100 and F5.6. 1 second exposure hand held against a light post on the opposite side of the street. This is a small crop but I didn't like the framing in the original.
-Chad Gibson
My town is small. One stop light small. We have a grand total of 3 speed limit signs and so "urban" decay is sparse. I did however find this sign to be coming of age. It has obviously started to give way to mother nature who has most likely pelted it with her hail and other harsh elements in protest of trespassing on some of the last truly untouched lands in our area. This photo was taken with a Canon 7D with a 28-135 lens (F/5, 1/60, ISO 100, Polarizing filter). Thanks.
-Branden Kerr
Nogales, Arizona, was originally founded in 1855 as a railroad boarder crossing. In its heyday it was a thriving cross boarder community. Those days have long since passed. A few Mexican Revolutions, a border wall, devaluations of the paseo, calls for boycott by its own Congressional Representative, and a staggered American economy have delt the area a 1-2-3-4 combination. Some parts of the city really are showing their age. Building facades that are store fronts on the first floor, but the second and higher floors are boarded or bricked in. Buildings have long forgotten their glorydays. For this challenge, I went to one of the back streets near the border (the fence you see in the background is the actual border fence, to snap a couple of photos. The buildings are beaten with windows that have been bricked in. An old metal porch roof is tatted and beaten by time and people. Coats of paint in varying statges of newness and decay try to give a better look to things, but do little to hide the cracks and rough makeovers that have done little to rejuvenate the area. The street shows cracks through the latest coat of asphalt laid over layers of previouly broken road. Hints of better days long past lie in some of the scars of the buildings, or the curl of a wrought iron structure that used to hold an awning before supporting a corregated metal bandage. This lonely back alley, once part of a thriving business and entertainment area, now sweves as a road to route people around a portion of a road now dedicated to one way traffic as the border in this immediate area is closed by the fence, to the border and back through what remains of the downtown Nogales buisness district.
- John Hays
Hello,
Here is my submission to Urban Decay that I call "Falling to pieces".
This bridge is the old "Traffic Bridge" in Saskatoon Saskatchewan, known locally as the "Victoria Bridge". It was built in 1907 and has since been closed twice. Once in 2005, where the city performed temporary repairs to lengthen the life of the bridge and again in 2010, when the city realized finally that the bridge was in dangerous condition. It is currently closed to all traffic and pedestrians both on and below the bridge, for risk of falling debris!
It is a steel bridge with a wooden and paved deck. On most parts of the bridge, the damage done by rust and age is frightening! Holes are present in the main beams, the supports and the arches above. Even the concrete piers, though the most trustworthy part of the old bridge, show the signs of over 100 years of ice and water erosion.
Taken with my Canon T1i with the kit lens. ISO400, f/8 and 1/320th of a second.
Thank you,
-Jen Judt
This photo is of an abandoned Supermarket around the corner from where I live. I pass this most mornings during my morning exercise. A new shopping centre has been built close by and this building and car park has fallen into disuse. As there is a lot of development in this area, I suspect that this will soon be bull dozed to make way for multistorey dwellings.
Taken on a Nikon Coolpix S6100. Set to Auto mode, but I spent a bit of time fiddling with exposure compensation to get some balance. f/5.2, 1/25 sec (handshake compensation was on), 13mm focal length, ISO-100 with +0.7 exposure bias.
- Nick Smith
"The Borden Bridge"
My subject for this weeks challenge was the "Borden Bridge", which is a reinforced concrete open arch bridge. It spans the North Saskatchewan River, near Borden Saskatchewan (that's in Canada ;)
This bridge was built during the Great Depression, simply to "make work" for local farmers and residents. It was operational and in normal use from 1936 until 1985, when it was closed and replaced by two double lane bridges adjacent to the original. Currently, it is open to the public (though privately owned) and can be crossed by walking, cycling or ATV's. It is not uncommon to see people fishing near the shore in the summer, nor snowmobile tracks covering it in the winter. For my wife and I, it is a favorite spot to go to and relax, walk the dogs, geocache and simply to escape the city!
The photo I took tried to bring all the different forms of decay into one shot. You can see the broken and cracked concrete arches, the rusting railings and re-bar, the dilapidated roadway and the plant life which has taken root in any crack it can. Up close, the bridge has obviously seen better days. When you look at it from the highway while passing by though, its a beautiful structure, the sorts we'll likely never see built again. Its almost sad to see this magnificent creation in this state.
Taken with a Canon T2i with the kit 18-55mm lens (its the only wide angle lens we have ;) which was capped with a Hoya CIR-PL filter to cut the glare. ISO 100, f/5 @ 1/160th.
Thanks,
-Aaron Judt
I used this subway station in Brooklyn NY for the last 8 years. So far as i can remember there always has been a construction at least few times a year. I guess the tunnel / 18th Ave overpass is the least of concerns. The tree from top left corner actually growth from tunnel concrete.
I used sony 5n 16 mm kit lens with wide angle adapter, f4, ISO 320, 1/60
-Georgiy Tomarev
Shot with a Canon 5D Mark II with the 17-40mm @ f/11,1/60th of a second, ISO 100
I found this spot by accident by taking a slightly different route to my original target destination. This is rear of the old Pillsbury A Mill near downtown Minneapolis which carries the distinction of having never caught fire or exploding (which apparently is notable enough to warrant mention on Wikipedia). It's an amazingly large and mostly abandoned facility near a very active part of town.
There is a wide variety of interesting subjects around the complex. I liked this particular shot because I thought that the door looked like patient zero's escape point in a zombie flick.
-Jess Zibble
While walking around town, I happened to see this image near sunset. Some land cleared of a run-down building, had an abandoned trash truck sitting there amid other abandoned metal objects. So on a vacant area that used to have a trashed out building on it, a trash truck was rusting away and inside the trash truck was...more trash that never made it to the dump. The big metal objects were scattered across the area and the orange silt netting spoke of a castaway chance for new construction. All I had with me was my cell phone to capture trash compounded by trash.
-Sally Austin
Canon EOS Rebel T1i
Fstop- f/6.3
Exposure- 1/60 sec.
ISO 200
I hadn't set out to take a photo to enter for this challenge since I was only in a town of 200 people but I came upon this house and new I had to enter something for this challenge. It's amazing some of the things you find in small town Nebraska.
-Nic Peters
Camera: Olympus E-PL2
Lens: 28mm 1:2.8 Canon FD (focal length is doubled on E-PL2, so 56mm)
ISO: 200
Aperture: f/2.8
Shutter: 1/15 sec
Tweaked and resized in Photoshop
This photo is of the inside of an old warehouse and loading dock near downtown Abilene, Texas. All of the bay doors were locked so I couldn't get inside, but I found an area where a couple of bricks were missing next to a door. I was able to peak my lens through and take this shot.
-Rick Alvarado
Urban Decay Challenge
Canon 7D ISO 400 - 7.1 - 1/100 - 29mm
I was in NJ visiting a friend when I took the images for this Shooting Challenge. This particular photo was taken in Hoboken just outside of the train station. Out of the various images I captured for this challenge - this one stood out. It shows natural & manmade mediums at various points of decay. I appreciate how the leaves, cigarette butts, & gum were scattered around mimicking confetti.
- Donna Guerreros
Camera
Canon PowerShot G12
Exposure Time: 1/15sec.
ISO Speed: ISO 800
Focal length: 18mm
Flash: No Flash
When I heard of this challenge, I was very excited to go out and take pictures but I started feeling sick so I stayed home.
I really could not think of anything that looked Urban Decay so I wondered around my house and found old hinges on my doors that looked interesting.
I took a few pictures and I really liked the look of this one. I tried to capture the old feel of this hinge by applying no flash. I also liked the look of the rust, oily dark spots that give the picture a more Urban feel.
- Karina Suniga
canon rebel xs
iso 200
50mm
f 1.4
1/250
A few blocks away from the bustle of downtown Lincoln, NE sits the empty factory of Meadow Gold dairy. This photo depicts the loss. It was a robust and busy factory and now its loading docks sits gray and cold, with a cracked Nebraska championship mug right where the manager would stand. Overseeing the orders being brought it and taken out.
-Noah Smith