For the past decade I have driven the same route to work, past a plot of land that was once part of an old military base. For years it was dotted with abandoned buildings, remnants of the old base. On my daily drive I have watched with interest the evolution of this field. At one time the old base was converted to a business park, the original buildings converted to more mundane uses, then one by one they were eventually torn down. After the last building came down the land was leveled and left to the rabbits and the weeds for several years. Through all of this one far corner of this field was never touched by the bulldozers and backhoes. Sitting in this corner under some trees are two old buses, abandoned all those years ago. I remember a time when they looked liked they could just be started up and driven away, but time, the elements and man have taken their toll on them. The tires have rotted, the windows smashed and graffiti covers nearly every inch.
Recently new construction has again changed the landscape. The weeds have been cleared and the land sculpted in preparation for new construction to come. Inexplicably these two buses have once again escaped the notice of the construction machinery that trawls back and forth across the field. They are almost hidden from view now as the land changes around them yet they remain untouched, sitting alone among the wildflowers in the corner of the field.
Although not a building or other part of the permanent infrastructure I still thought these buses would make a great subject for this challenge. I took this photo in the early morning sunlight on my way to work.
Taken with a Canon Rebel Xsi, f/7.1, Exposure time 1/80s, ISO 200, Focal length 55mm. Color enhanced in Dynamic Light HD for iPad.
-Michael Drewry
G/O Media may get a commission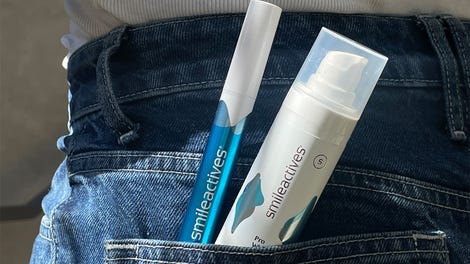 58% off
Whitening Powerhouse Pen & Gel Duo
I was in the West Bottoms in Kansas City this weekend taking photos for some friends of mine, and on the way back home trying to find my way back onto I-70I was driving under it when I spotted the pile of tires. When you're on I-70, you have no clue the different world directly under the deck of the highway. I kept part of the green channel for the weeds growing among the tires, and reduced the saturation of everything else down to black and white. This photo was taken with my Sony A55 with a Tamron lens @ 28mm focal length, 1/60 shutter speed
- Marvin Francois
In the late 1800s street cars were a popular method of transportation for all types of people from factory workers to business men. Street cars were instrumental in helping the city expand by allowing residents to move farther from downtown. In a part of town that is still somewhat undeveloped, you can still find remnants of the street car and the infrastructure that once powered them.
Camera: Sony 200
ISO: 100
Lens: LensBaby Composer Pro
Post Processing: Photoshop CS5 (HDR + Filters)
-Peter Mares
This old bench happens to sit 20 feet away from my front door in my condo complex under a large tree. Funny that no one really sits in it as it is so rotted out. Shot with Canon S90.
-Peter Vincent
This photo was taken on my visit to the Cutty Sark, London. The coaling pier in the photo is attached to the Greenwich power station. The Greenwich power station is one of a few power station remaining. The pier is no longer in use because the relatively small amount of oil used at the station comes by road tanker. I was hoping to capture landmarks from the 60's in East London which were rusting away, and the pier really did it for me.
Nikon D3100, ISO 100, f/8.0, 1/20s, Matrix Mode, No flash, 35mm.
Cheers
- David Ogilo
Shot was taken w/ a Canon Powershot SD 600 ELPH, automatic settings.
I am not a photographer, or an artist. But I did like the idea for
the contest and wanted to participate.
Living in Phoenix,AZ urban decay is different here than other places.
Lack of tall buildings, mass exodus, or 'weather' make it a bit harder
to find what best embodied the subject in my local area. When things
decay here due to nature, it generally means fading/peeling paint &
more dirt than usual. We are quick to fence off & demolish structures
only a decade old for newer objects, let alone very old ones in a
state of decay. So my subject matter is that of a collapsing sidewalk
& water meter, where man's lack of attention is allowing grass to
start to grow in an area that had an average temperature of 109 last
month.
Thank you for your consideration.
- Joe Levee
A stairwell to nowhere...
I went for a walk on the old waterfront area, a once thriving district, teeming with people, boats and night life... in the 50s and 60s. Now, all that's left are shambles, gratified walls and disrepair. This used to be the grand entrance to a manor house of some well-off trader. I couldn't find out exactly what he traded, but it was obvious by the size of the place that it was profitable. Now only the entrance that you see on the photo is left. There's no first floor, nothing on the top of that stairwell. Hence, "a stairwell to nowhere"
Canon T2i 18-55mm, shot at 45mm f32 1/50s ISO 3200
- Rafael Victoria-Pereira
The irony of the situation first attracted me to this shot, but as I looked closer I saw the potential for various layers of the 'Urban Decay' theme: The mottled monotone texture of the moss-covered gravestones, themselves reflecting our own mortality and inevitable decay, contrasting with the hope and vibrancy of the wild blue flowers growing at their base; the engraved names fading into obscurity as the achievements of their owners fade into history; and the more subtle decay of social morality which led to some cheeky bugger sticking that 'let' sign there! Canon EOS 550D @ 31mm, ISO100, -1EV, f/4.5, 1/125.
- Nick Hale
When I first heard about this challenge I immediately knew that I need to wander around my neighborhood, downtown Los Angeles. It's a slowly gentrifying part of town and home to a great many buildings and theaters that had their heyday in the 20s and 30s. The row of classic theaters on Broadway are always interesting to look at but most just look old or unused. The Tower Theatre has always looked out of place. I noticed the broken glass on the clock face at the top of the tower, and the fact that the clock faces showed different times and thought it summed up the state of the building. It was an added bonus that with just tiny boost to saturation, the rust around the clock seemed to glow.
Canon T2i - 70-300mm lens - ISO100 - f/5.6 - 1/400
- Lindsay Claiborn
Hello.
Given its age and the vast number of weathering stone buildings it contains, it took a surprisingly long time roaming around Oxford, England to find a suitable urban decay scene. The place is surprisingly well-maintained. I set out to find grasses growing in between bricks that had pushed them around over time; however, the submitted photo was taken in a nice neighborhood of Oxford — Jericho. It wasn't just the peeling paint that drew me to the scene, it was the rusted screw sitting there, like someone couldn't be bothered to make sure their gate was functioning properly, let alone repaint it, and also the contrasting overgrown red vines.
Sony DSC-W220
f/2.8
ISO-125
1/400 sec
EV -1/3
-Jeannie Moulton
Urban Decay
Abandoned house in Campinas, Brazil.
HDR Picture taken with a Canon 60D,
50-500mm Sigma, f/8.0, ISO 100, 1/250s, 63.0mm
-Jacomo Piccolini
Nikon D90, 35MM f1.8 DX lens, ISO 400, 1/40 sec @ f1.8
The relentless Disneyfication of Manhattan has erased from the city's
streets most traces of the griminess, dinginess and stink which is in
New York's DNA. However, this doorway which I pass every day to work
on a busy part of 14th st (between 6th & 7th Avenues) has somehow
managed to remain trapped in time, a joyously derelict reminder of the
city's essence pre-Giuliani, pre-Lion King.
Thanks!
-Will Treves

Graffiti goes where it should not, this fence should keep them out, outcasts and desolates, creating a ctiyscape where people fear to walk as to not be harassed.
The symbols only mean something to the painter, but the message is clear and it is not one of creation but destruction.
I really hate graffiti.
Finding something that is broken down in Zürich is certainly a challenge yet coming to the industrial area's you can find much graffiti and many area's where you can see the cracks...
Nikon D90
35mm 1.8
10 seconds @ f8.0
Edited in Silvere Efex Pro
- Nils Rowher
Hi Gizmodo,
Here is my submission.
I used my 500D with the kit 18-55 lens, exposure 1/100, F 7.1, Auto ISO.
This is my first submission Ive been following the challenges and have enjoyed other peoples entry's. With this challenge I felt that I could give it a go knowing a few places around that have fallen into disrepair. I took a long walk round Leicester UK where I live and looked around for places what have become rundown. I saw this wall and I liked the paint peeling away from years of neglect. Hopefully it will be up to the high standards of other entry's I've seen in the other challenges and I hope to join in with some future challenges.
Cheers,
- Rob Newitt
Camera: Canon 40D
ISO: 160
F/6.3
Shutter: 1/800
Lens: Tamron 17-50mm
The remains of the Colonial Apartments are located on the NE side of Houston, Texas along Interstate 59. It is difficult to find the history of this complex. They are located in an economically depressed area of Houston along one of the city's main arteries. The first time I visited this place I was attacked by a dog. I am still not sure if it was a stray protecting its territory or owned by a squatter living in the defunct apartments. I have done quite a lot of "urban exploring" and this place seems too sketchy to go into alone.
-David Elizondo
I used a Nikon D5000 Camera
Settings: F8 Shutter Speed 1/500
I added an antique filter and enhanced the shadows through Iphoto
The photo was taken in Hoboken, NJ where the cobblestone streets are no longer maintained. I thought this photo portrayed urban decay because throughout the years the streets have become worse and are barely drivable.
-Alyssa Hart
1/400 F11 320 ISO
Shot in an abandonned corner of rue Moufle in Paris, France
http://g.co/maps/q3n3b
This picture is a good example of an abandoned place where everyone throw used things. You can see a newspaper ball, a cigaret butt, a piece of plastic, pieces of glass, sputum, feather..
I can't imagine how this scar has appeared in this wall
-Seb Bonamie
This old Parker-Hannifin Factory (they made pneumatic valves and guy stuff back in the day) operated from 1964 - 2002 in Wake Forest NC, just outside of Raleigh. Nestled against a very expensive neighborhood, the city wants to tear it down and build shopping in its place - however, there is the teeny weensie issue of the clean up of toxic chemicals that were dumped there in the 1970's...Oops. I drive by this building every day, am fascinated by it and knew I had found my my subject matter for this challenge. The big bummer was its been raining every day here this week so my opportunities for better lighting were minimal. Oh well, cest la vie!
Canon 7D (brand spanking new!)
80mm Focal Point
70-300mm Lens (older than dirt, no IS - nada)
f/7.1
5
ISO 16000
-1/3 EV
Thanks
-Karen Reynolds
Hey there
This is my first submission ever and only got to know about the contest a couple of days ago!
I had an errand in Valletta (Malta, Europe) so I decided to take the camera with me just in case I spotted something worth submitting. I was going round in circles for parking and as soon as I did find a slot and got out of the car, I looked up and saw this building, and thought, good thing I had brought the camera with me! In a way, it's a bit disappointing that towards the south of our capital city, there has to be all these abandoned buildings which are sometimes squatted with homeless. They do give character I guess too!
Shot using Nikon D90, 18-105mm lens, F22; 1/125; focal length 50mm, ISO 200.
thanks!
-Purdey Fava

Equipment and Technique: This was taken using a canon Eos 500D with a 24 105 f4 lens, picture shot at ISO 100, f 6.3 and 1/60 at 105mm, this helped the photo maintain a wider depth of field and allowed the bus to be blurred adding movement. The photo was shot in Raw and then converted to black and white with a blue filter applied, this helped the figure stand out against the bus a little more.
Taken on a Saturday morning, this poor guy was a asleep in the middle of a small park beside Clapham Common tube station in London. He's obviously a bit worse for wear and surrounded by cans of 12% lager. There's quite a few homeless people in London but i thought this picture showed his isolation from a community, that at that time was busy and bustling. Somehow he's managed to find the only isolated place, and yet as he's raised, he's sort of on display for everyone to see. Once i saw the bus coming i knew this would be a great shot, i set up, waited for the bus to get in frame and then snapped. Although i didn't intend for the bus to be blurred, you can still make out the fitting message and the blurring adds a motion to the image as if the world is moving out of sync with the man.
Hope you enjoy,
David Horsburgh
While on a trip to Sao Luis, Maranhao, Brasil, I came across this tile mosaic at the entrance of a marketplace. It struck me as very beautiful and yet very common, at the same time. It is well worn from so many people stepping on it through the years. The tiles tell when the building was built and who built it. "Began 28 July 1891. Finished 31 December 1892. Directory" and the names of five men involved in its creation. It is sad how this piece of ornate history is decaying under the feet tourists and locals.
I used my Kodak EasyShare C513 for this shot, as I didn't bring any other cameras on the trip.
-Jennifer Bryant
"I Tried To Call You"
I tried to call you just now. I needed to tell you how alive this city feels today. I wanted to show you Denver at its lowest, I was trying to show you the decay, the way the city can feel old and worn down. I tried to capture "urban decay" and all I could find was life. Everywhere we went today, my cameras and I, I tried to capture the feeling of decay and I floundered. Everything seemed too alive today. The color of the autumn sunlight was golden warm, infusing everything I saw with a soft glow. Every place I went that I thought would be dead was awash with light, alive in the soft caress of fall breezes. Every place I went there were people out enjoying the fine weather and this beautiful city. I tried to call you and tell you that I couldn't find decay, because even the places I found that were rundown were alive with history, years of stories and myths and legends. There is no urban decay in a city that comes alive like Denver does on a perfect fall afternoon. I tried to call you, but I didn't have a quarter.
HDR photomerge using CS4.
Shot with a Canon XSi
18-55mm lens
ISO 100
F/4
1/60, 1/250 and 1/1000 (bracketed)
Colfax avenue near the Bluebird Theater, Denver Colorado
-Jenni Lammers
First timer here for the Shooting Challenge :)
This picture is taken in Muncie, Indiana in front of a metal works plant. Muncie back in it's hay day was heavily invested in the automobile industry. The part of town I traveled to find my urban decay picture was near the prior location of the Chevrolet Plant that made "rock crusher" transmissions for muscle cars back in the 60's. The plant was shuttered in 2006 by GM and torn down in 2007/2008. The town is still trying to figure out what to do with the area which is now a huge empty lot.
The building in my picture is one of many manufacturing companies that closed shop as work at the GM plant dwindled. The square glass panel windows were very typical of the time period (30's and 40's) for buildings built back then. Surprisingly though, the property is still for sale if someone is sucker enough to buy it.As I was taking a few shots I noticed the overgrown grass in the lawn in front of the building and found the flower which became the subject in the foreground of my picture. I was just thinking that even in dead buildings like this you can find some signs of life.
Camera: Sony Alpha DSLR-A560
Lens: DT 18-55mm F3.5-5.6 SAM
Aperture: f/11
Shutter Speed: 1/160 sec
Focal Length: 18.0 mm
ISO: 200
I initially did some color correction on the photo then decided to manhandle it and give it an aged look while still keeping the flower vibrant and cropped it to size. I did this with Photoshop cs5.
- Jeremy Martin
There's a running trail in Northern NJ that runs near an old TB hospital/mental facility. Buried into the trail is a pink pick up truck that isn't known to many—you really need to think about what you're looking at to see it, and you need to slow down enough to truly see it. The truck is about 15-20 feet down from the trail, so not many runners/walkers/bikers ever get to see the front of it.
Considering the hospital has been closed for about 30 years, the truck must be around that age. It's mangled metal is buried within the trail, and the trail and trees and plants have grown around it.
Here's the ignition panel and the "Fasten Seat Belt" warning. The white steering wheel is to the bottom right. The spider is a new addition—he's only recently called the truck home.
Nikon 3100
f/7.1
Exposure 1/5
- Brian Anderson
Canon EOS Rebel T3
Lens EF-S 18-55mm
On M mode, Focal Length 18mm, ISO 100, Exposure 1/800sec, F/ 5.6, JPG
Did some tweaks in Lightroom 3
I love shooting the urban life, I saw this dilapidated building on the way home that i thought was cool, i had to shoot fast cause it wasn't in a safe neighborhood. I wanted to go inside but there was no way in. I was in such a hurry that i forgot to change from JPG to RAW from my last shoot.
- John Tan-Torres