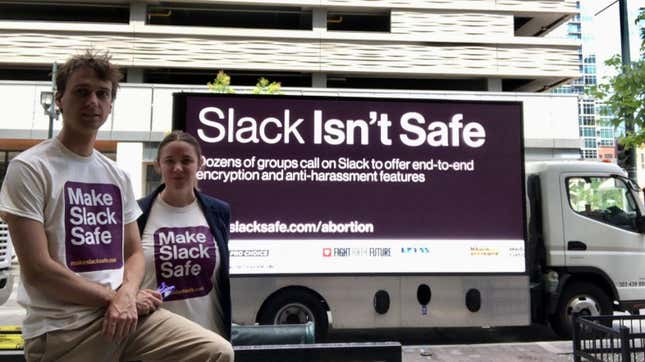 A coalition of over 90 organizations protested outside of Slack's San Francisco headquarters Wednesday, driving mobile billboards around Slack's offices in a protest-style rally and calling on the company to enable end-to-end encryption and add blocking and reporting features.
Meta's Apparent Firing Goof
For certain kinds of white collar jobs, life revolves around Slack, the messaging app that's managed to completely entwine itself into the culture of American knowledge work. With that kind of market power comes responsibility, and at least according to some, the company isn't holding up its end of the bargain.
"Abortion funds and reproductive rights groups use Slack to help people get the care they need, but without end-to-end encryption, their messages could become a target for law enforcement to enforce anti-abortion laws, as we've seen with other online communications," said Caitlin Seeley George, campaigns and managing director for Fight for the Future, one of the organizations that coordinated the rally. "Millions of people use Slack every day for work, volunteering, and connecting with communities online. Slack is putting these users at risk by not offering end-to-end encryption, blocking, and reporting features."
Slack told Gizmodo it has users' best interests in mind and already works to protect them. The company did not answer questions about whether it plans to offer E2EE in the future.
"By default, Slack encrypts data at rest and data in transit for all of our customers. All our plans offer customizable retention settings, where customers can automatically delete messages and files after set periods of time," a Slack spokesperson said. "Slack will not share customer data with government entities or third parties unless we're legally obligated to do so—and we make it our practice to challenge any unclear, overbroad, or inappropriate requests."
The company said it also allows organizations to set up more secure encryption settings. "We're always evaluating our security practices and the best options to protect data on Slack so that we meet our customers' needs and provide an excellent product experience," the Slack spokesperson said.
Fight for the Future published an open letter signed by over 90 abortion, digital rights, and racial justice organizations, as well as businesses with a special interest in security.

"Slack has put the security of our communities in danger by not taking steps to ensure user safety," the letter reads.
Digital security is woefully complicated, but here's some background. There are many different kinds of encryption, a process that turns plain text into machine-readable code that can't be immediately translated by human eyes. However, without proper precautions, that code is easy to unravel. End-to-end encryption (E2EE) is expensive and technically complicated to operate, but it's a favorite for advocates and security experts because it makes it all but impossible for anyone to read a message except for the sender and the recipient. This type of encryption protects users' messages on Whatsapp and Signal.
"Slack must protect its users and catch up with many of its peers by offering common sense safety features, like the option for end-to-end encryption," said Reem Suleiman, US Advocacy Lead at Mozilla, which also helped organize the campaign.
Shielding messages from prying eyes may not be significant when you're sending a coworker a meme, but when sensitive subjects are on the line, it can be a serious safety issue, and sometimes even a matter of life and death. The call to encryption arms comes over renewed digital privacy and security concerns raised after the Supreme Court's overturning of Roe v. Wade. The normal course of human life leaves a digital trail that's difficult to impossible for regular people to clean up without built-in precautions from tech companies.
To name one example, a 2022 Gizmodo investigation identified 32 brokers selling data on 2.9 billion profiles of U.S. residents pegged as actively pregnant or shopping for maternity products. After being contacted, none said they had any plans to stop selling such data.

E2EE is a straightforward — though difficult to implement — solution for messaging platforms. Many already offer it, including Signal and WhatsApp. Meta has plans to bring encryption to Instagram and Facebook Messenger as well. With E2EE, users are protected even if a company gets a subpoena, because even the company doesn't have a copy of the messages that anyone can read.