Netflix has ambitious international plans, Bing prediction sets the dial to creepy, and the future a silicon-based chips is coming to an end. It's a healthy helping of news and rumors on BitStream. Come and get it.
Netflix Wants to Be in Russia By 2017
Despite companies, such as Spotify, currently postponing or abandoning service in Russia over the increasingly dicey Ukrainian conflict, Netflix says it will be in the country by 2017. Why is Russia so prized by streaming websites? Well, right now—no international streaming service has yet to plant a flag in that frozen tundra.
Amazon announced similar plans back in 2013, but so far no further announcements have been made. One historical concern, according to The Hollywood Reporter, is Russia's rampant online piracy led Netflix, and possibly other services, to believe a paid-for service wouldn't go over so well. But Russia last fall said it was working on more stringent anti-piracy laws, which may have dismissed Netflix's previous fears.
Anyways, congratulations Russia! May I recommend House of Cards, Orange Is the New Black, and BoJack Horseman. [The Hollywood Reporter]
G/O Media may get a commission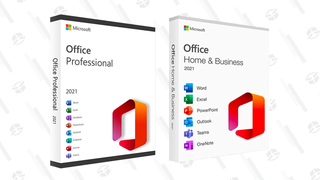 89% off
Microsoft Office Professional 2021 Lifetime License
Microsoft's creepy soothsaying continues
It seems now that every major cultural event will soon be spoiled by data-crunching machines. Much like Microsoft's scary accurate prediction of the Super Bowl and the World Cup, the Bing prediction engine went to work on who be nabbing Oscars over the weekend. Out of 24 winners, Bing only missed four of them, and correctly picked all six of the top Oscar winners. (Yes, Bing thought Birdman should have won, too.)
What makes the achievement stand out from other sports-related predictions is, as Microsoft Research says, there isn't really any statistics to work with and award shows are "relatively unpredictable." But the Bing prediction engine was pretty successful anyways. [The Verge]
Rumortown
Your Apps, Updated
De(vices)
Bucket of Random
What You May Have Missed on Gizmodo
Five Ways To Use Tech To Hide What an Awful, Lazy Person You Are
After Thousands of Years, Earth's Frozen Life Forms Are Waking Up
An Isolated Vault Could Store Our Data on DNA For 2 Million Years
How Creeps Will Use the Internet To Break Into Your Home
Kanye Is Making a Video Game Where You Help His Mom Get to Heaven