Sony's HVR-V1U HDV camcorder was on display at a special touchy-feely roll-out event in New York this afternoon, and Gizmodo was there for a quick hands-on. Sony presented a refined HDV camcorder that mid-level video production pros and filmmakers will snap right up. This is the higher-end, also-CMOS-totin' big brother to Sony's HDR-FX7 we mentioned a couple of weeks ago, and yes, this V1U is the more-professional version we were hinting at then.
The big news is 24p, that frame rate that sounds slower than the garden-variety 30fps, but is coveted by filmmakers because it's the same rate that film has used for decades. It gives footage a highly sought-after, special look, and now it's available in a 1080p resolution.
More details and pics after the jump.
The 24p footage coming out of this camera is at a higher rez than other cameras deliver in this price range, where the vertical resolution is a full 1080 lines. In a somewhat convoluted process, the horizontal resolution is captured by the CMOS chips at 920, though, not the full-raster 1920, and interpolated in the camera to 1920/60p, and ends up being recorded at 1440 to comply with the HDV format.

G/O Media may get a commission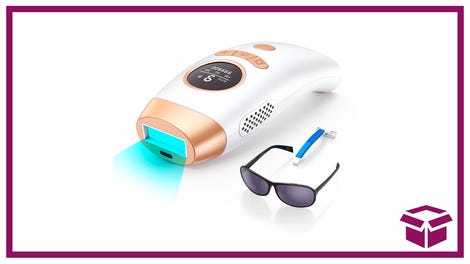 58% Off + Coupon
IPL Hair Removal Device
But don't let all the trickery scare you. After playing with this camera for a few hours and looking at lots of its footage, I must say the 24p look of this camera is remarkable. It's the closest to full HDTV I've seen this 25mbit/s HDV format get. That's helped along tremendously by its CMOS sensors, instead of the CCDs of previous HDV camcorders from Sony and others. These refined CMOS sensors give the camera better interpolation, higher dynamic range and increased perceived resolution, too. It's all good.
Even though the implications of the camcorder's 24p-ness were large, size isn't everything: The camera feels compact in the hand. Another big story is its tiny (and optional) hard disk that you can attach to its top where the shotgun mic usually resides. I especially like the hard drive's recording parameters showing up in the pro camera's viewfinder. Plus, shooters will like the backup aspect of it, where they can shoot to both HDV tape and disk with that extra assurance of redundancy. Sony calls this a "hybrid recording system," where you can shoot your master and archive at the same time.
Overall, this is a strong release from Sony, and I think pro shooters will all stand up and cheer that there's finally a 24p camcorder in this price range that handles HDTV so well and has XLR audio inputs. Oh yeah, it even has an HDMI port, too. Sony says the camcorder will be released in early December for $4800, the hard disk recorder will be $1800. Insiders are saying this pro gear might be on the market even sooner than that. We can't wait to take this baby out in the field.
Extended report, more pics [Digital Video Editing]