Despite the release of the 41-megapixel Nokia Lumia 1020 back in 2013, over the last few years, smartphone makers have largely featured 12-MP or 16-MP cameras, opting to focus more on improving things like auto-focus speeds and 4K video recording instead of chasing higher resolutions.
However, the mobile megapixels wars may be heating up again with the release of Sony's new IMX586 smartphone camera sensor and its class-leading 8,000 x 6,000 48-MP resolution.
By shrinking down the size of individuals photo pixels to just 0.8 microns, Sony's IMX586 is able to cram 48-MP onto a single 8mm diagonal sensor, which is more than small enough to fit into most smartphone bodies.
In daylight, Sony says the IMX586's super high megapixel count should translate into greater details and improved quality when using your camera's digital zoom. After all, even after cropping in by 400 percent, you'll still be looking at a 12-MP photo.
G/O Media may get a commission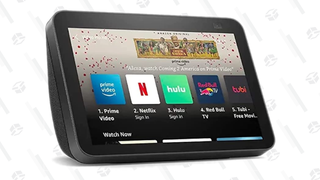 And in low light, when camera sensors need to gather as much information as possible, the IMX586 follows in the footsteps of the Huawei P20 Pro's camera by using a Quad Bayer array to combine adjacent pixels into a 2x2 grid. This effectively increases the IMX586's overall pixel size to 1.6m microns, which is even larger than what you get from the cameras on a Galaxy S9 or a Pixel 2 (both feature sensors with 1.4 micron pixels).
Other features of the IMX586 include full-resolution burst shooting at up to 30 frames per second and true-4K (4096 x 2160) video recording at 90 fps. But ultimately, whether those abilities get implemented on a phone will be up to the device maker, which brings us to another important question: When will this thing be available for real?
Sony announced the IMX586 today, but the company didn't mention which phone makers have actually pledged to put one in an upcoming device. While we could see something equipped with an IMX586 as soon as this fall, that would mean we're still a couple months away from seeing how Sony's hot new camera sensor actually performs.