Remember when art class was fun? Before you had to worry about techniques like three-point perspective. It was just you and some finger paints and a smock. Save a buck and return to the art-creating world of your childhood with SpinArt. While you're down there, throw a ball in a hole. And while some parents don't want to admit it, I'm pretty sure we all played war at some point as kids. Let's keep our violent childhood alive with a cheap sea battle.
The premise is simple. You pick a color. The canvas starts spinning, You put your finger down. Boom, art from kindergarten. Maybe first grade if your school had any sort of budget. You get 54 colors to choose from, along with ample glitter. And not the Mariah Carey glitter, the sparkly kind. The app is allegedly for kids. Whatever, I'm going to get my art on. Dropped from $2 to $1.
It's not pinball, or pool, or that labyrinth game with the maze in the wood box. It's sort of all three, but you're solving puzzles. I guess it's most like miniature golf? However you want to label it, Holes and Balls is a fun game to pass the time and it's free. Oh, and the name makes me giggle. Dropped from $3 to Free.
G/O Media may get a commission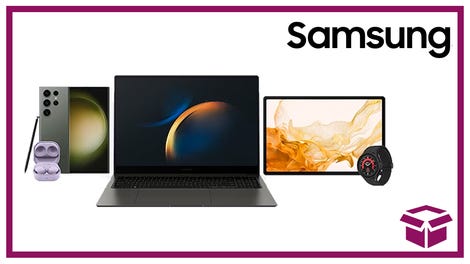 24 hour deals
Discover Samsung - Daily Deal
A wise man once asked what war was good for. Well I can tell it's good for killing Nazis and making games. Minute commander is a two-player game played on one iOS device. Each player gets one minute to attempt to destroy their opponents ships before relinquishing control of the device. You could yell, "You sunk my battleship!" when you lose, but I'm pretty sure that phrase is trademarked. Dropped from $2 to $1.
Webster's dictionary defines "trip" as: "That time you got lost in the airport trying to find your terminal and suddenly realized that you forgot to print out your flight and car rental information." TripIt puts all that information on your Android phone so it's easy to find and and can be exported to your calendar app. You don't even have to fill in the trip details, just forward the confirmation email from your airline to your TripIt account and you're good to go. Now you only have to remember to bring your passport. Dropped from $4 to Free.
The App Deals of the Day is made in collaboration with Appsylum and apps-aholic. Check it out for the complete list of app discounts.