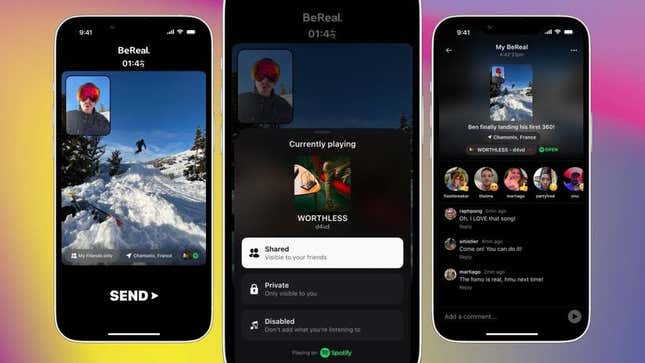 BeReal is jumping on the Spotify bandwagon by integrating the music streaming service as a feature on its platform. The app was released in 2020 and marketed itself as an authentic alternative to other social media platforms by prompting users at a random time to post about what they're doing at that exact moment.
What to Watch For: Taylor Swift's "Midnights" What to Watch For: Taylor Swift's "Midnights" vinyl sales
Spotify announced its collaboration with BeReal in a news release and confirmed that streamers will now be able to listen to their favorite tracks through the BeReal app. Not only can you share what you're listening to at the moment, but users will also be able to "check out what other friends are listening to on your BeReal feed," the release says.
BeReal and Spotify did not immediately respond to Gizmodo's request for comment.
Users were initially drawn to the platform by its simplistic design and spontaneous real-time photos after receiving an alert that it was time to "Be Real." In recent months the app's users have dropped by 61%, down from 15 million users at its peak to six million active users in March, and while BeReal may never reach that kind of popularity again, it certainly seems as though it will continue to try.
You can connect your Spotify and BeReal accounts either through the music icon that pops up before posting a BeReal or by going to the Music tab in the Settings tab and following the prompts to connect the two.
The Spotify integration officially rolled out on Wednesday on both Android and iOS systems and is available in select markets including the U.S., Canada, Mexico, Brazil, and Australia. The music streamer says it will expand the feature to additional markets in the future, but did not provide additional information.
"We're proud of this integration within the BeReal platform," Spotify said in the release. "We're constantly finding new ways to bring Spotify to more people, and helping fans, artists, and communities connect through audio around the world."