How do you toss up 500+ posts at CES and the Macworld Keynote without hooking up to a single WiFi or hard ethernet port? You rock some cellular data. Every person on the team had either a USB dongle by Novatel (the U720), or a Sierra Aircard 595 PC Card. That's thanks to Sprint, who loaned us the cards on the condition that we'd give em feedback on how they worked in Vegas and SF. They were incredible.
To mix it up, I occasionally used an expresscard from Verizon on my Macbook. Although Verizon hasn't officially upgraded revision A, they're the only EV-DO company to have expresscards, the native expansion slot for the Macbook Pros many Gizmodo bloggers use.
Not that getting the USB dongles from Sprint fixed everything. We had depend on a hack from the EV-DO forums that allow OS X to use the USB devices. The resulting reception and performance made it worth the trouble.
We had reception in basements of the Sands, when our phones and other EV-DO cards couldn't pick up a damn thing, and WiFi was saturated by hundreds of journalists trying to file. And in the electric din of the Las Vegas Convention Center's halls, we uploaded probably a thousand photos, and dozens of videos, not to mention tens of thousands of words of ill crafted prose. And speeds were consistently good enough to not impede our work flow.
G/O Media may get a commission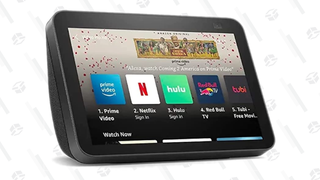 As soon as these loaners go back to Sprint, and they come out with and expresscard, I'm going to actually throw down a portion of my paycheck every month for the service. A rare endorsement for a guy
Sprint Mobile Broadband[Gizmodo]