The announcement that Star Trek: Discovery's Michael Burnham was actually Spock's adoptive sister raised a few Vulcan eyebrows, and that was before Spock himself was added to the season two cast. Showrunner Alex Kurtzman is doubling down on his promise that this version of Spock isn't going to muck up the timeline. All I can say is: challenge accepted.

In an interview with TrekMovie at New York Comic Con, Kurtzman was asked about his decision to bring Spock (played by Ethan Peck) into season two of Star Trek: Discovery, when he'd previously said the Star Trek icon wouldn't be part of the show. He said it's because he wanted to tell "the unwritten chapter of Spock," meaning the era before Star Trek: The Original Series. Granted, this period in Spock's life has been explored elsewhere, mainly in the Kelvin timeline of the films—though that reality exists separately from this one.
Kurtzman elaborated by going a bit into Spock's connection to the plot of season two, involving the Red Angel and mysterious signals that he and Burnham are separately investigating. He said season two of Discovery is "literally the only season in which we can tell this story about Spock." It's unclear what that means, but I'm guessing it's because of how they're bringing in Christopher Pike (Anson Mount) and the U.S.S. Enterprise. Plus, the 10-year gap between Discovery and TOS cannot get any smaller without risking overlap.
There was also emphasis placed on the importance of Burnham's contentious relationship with Spock, saying their interpersonal issues helped shape the Vulcan we know and love. Here's Kurtzman's response:
This is not the Spock that you know from the beginning of [Star Trek: The Original Series], this is pre-TOS. He is not that formed Vulcan yet. His experience with the Red Angel and the signals has fried his logical brain. He cannot make sense of it. And he is emotionally ill-equipped to deal with it. So both logic and emotion are failing him, totally. And he is totally unsure of himself and trying to figure out how to make sense of the mystery and where he fits into the world. And it's through his complicated relationship with his sister that he's able to figure out how to become and actualize himself as the Spock that we know from TOS. And that's really exciting to us because it in no way violates canon, it just builds on what's been set before.
G/O Media may get a commission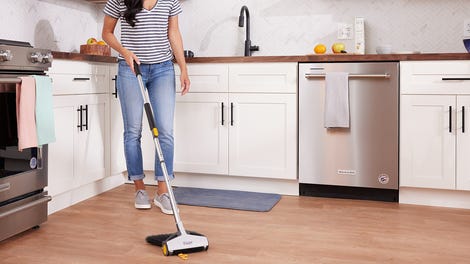 BOGO 50% Off
Flippr - BOGO 50% Off
The road to getting Spock in season two of Discovery has been weird and complicated. The familial connection was first announced at San Diego Comic-Con in 2017. I took some issue with this, as Burnham had never been discussed or mentioned throughout all of Star Trek before now. If she was as important to his life as the show claims, that would be pretty insulting to one of your saga's key characters. That said, some have made comparisons between this never-mentioned relationship and the one between Spock and his older half-brother Sybok from Star Trek V: The Final Frontier. Secret siblings everywhere!
It was later revealed that a younger version of Spock would be seen in a flashback alongside Burnham. Then the role grew even more, with Spock joining as a part of the season's main storyline. While the role has expanded and become quite convoluted, from the very beginning Kurtzman has promised that Spock's presence—both literal and conceptual—would not break the Star Trek canon. We'll have to wait and see how the actual season plays out before judging whether or not that's really the case.
Star Trek: Discovery returns with season 2 on January 17, 2019.