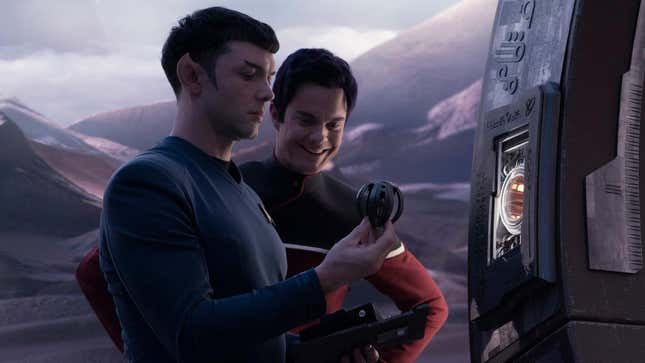 There's a lot to love in Strange New Worlds and Lower Decks' special Star Trek crossover, but getting to see Tawny Newsome and Jack Quaid bring some of their chaotic energy from the world of animation into the live-action Mariner and Boimler was a highlight—especially because that energy radiated through the Strange New Worlds crew.
How Has Ortegas Changed and Grown Coming into Star Trek: Strange New Worlds Season 2 | io9 Interview
That's according to director Jonathan Frakes, who aside from being chair-mounting legend William T. Riker, has now directed over 200 episodes of Star Trek and is arguably one of the franchise's most prominent faces behind the camera—as he was for "Those Old Scientists." Speaking to Variety about the process of bridging the gap between contemporary live-action Trek and the kind of vibe he picked up on playing Riker again in Lower Decks, the veteran director-actor said the improv more at home in Lower Decks' vocal performances became a big thing on the Strange New Worlds set.
"Improv doesn't happen a lot on Star Trek, as you probably have heard," Frakes told Variety. "I mean, especially in our fucking show, they were so strict [on TNG]. It was like we were doing Shakespeare or Chekhov."
Earlier this week Jack Quaid told Wil Wheaton on the official Trek aftershow series The Ready Room that one bit of improv was Boimler pulling off his own version of the Riker Maneuver—Frakes' trademark way of gracefully ambling over a chair to sit in it—when confronted with Pike's saddle set up in his ready room. But talking to Variety about the "infectious effect" Newsome and Quaid's improv had on the Strange New Worlds set, Frakes mentioned that Mariner being completely bowled over by Ethan Peck's Spock being so dang hot was not in the script, but all Newsome.
Which, I mean, fair. Whether it was Panic! At the Discovery-era Spock with his emotional/galactic crisis beard, or Strange New World Spock and his fantastically fitted Sciences uniform, Mariner was simply speaking her truth, the truth of Nurse Chapel, the truth of T'Pring of Vulcan, the truth of probably a good 75+% of the people aboard the Enterprise: we're living in a golden age of exploring the fact that Spock Is Hot.
---
Want more io9 news? Check out when to expect the latest Marvel, Star Wars, and Star Trek releases, what's next for the DC Universe on film and TV, and everything you need to know about the future of Doctor Who.