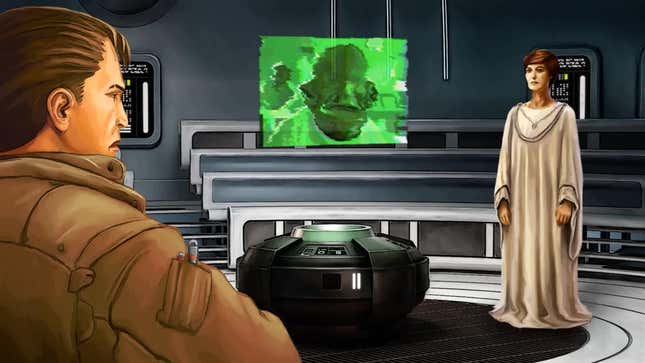 Dark Forces is a classic game for a reason—not just a great licensed game that told a new, original story in a beloved franchise, but because it helped begin to revolutionize the first-person shooter genre as we know it, setting the stage for iconic luminaries in the field. And now, it's back with a fresh coat of paint.
Announced today during Gamescom, Nightdive Studios is working on a remaster of Dark Forces, updating the 1995 shooter with updated 4K graphics and high-framerate modes. It's not a complete overhaul, but the sprucing up of Dark Forces' classic 2D and early 3DCG cutscenes captures a lot of the legendary '90s gaming aesthetic while just giving it a clean pass. Dark Forces still looks like Dark Forces and not, say, Jedi: Survivor, but that's the point—it's not a remake, but an invitation to go back to that moment in Star Wars and gaming history and see it as your hazy memories recalled it.
Dark Forces is a product of its time, of course—how it mechanically holds up for intrigued audiences who've missed out on it over the years remains to be seen. But what's immortal about the game is that as Star Wars has evolved as much as the FPS genre has, Dark Forces has found itself even more important to Star Wars storytelling even as it faded out of canonicity. The story of how Kyle Katarn stole the Death Star plans—or at least, the complicated process of all that—may no longer "matter" from the standpoint that it is no longer canon. But it's hard to look at modern Star Wars and not see Dark Forces' thematic, symbolical and ideological finger prints all over it.
Kyle himself has yet to make the leap over from Legends to the current continuity, but so much of what made Dark Force compelling as a Star Wars story has. There's literal examples, like the Dark Troopers being picked up by The Mandalorian, Kyle's iconic ship The Moldy Crow making cameo appearances in games and comics, or even the simple fact that Cassian Andor—the closest modern Star Wars has to a Kyle Katarn—literally has Kyle's legendary Bryar blaster pistol in his own show.
But Dark Forces matters tonally to what Star Wars is asking of itself in the here and now as it navigates its own rendition of the early days of the Rebellion, of the lines needed to be crossed by its operatives in the name of fighting against the Empire. The murky side of revolution is what drives the likes of Rebels, Rogue One,  and Andor, and while Kyle himself would go down a very different, fascinating path in future Dark Forces games—eventually becoming a Master in Luke's New Jedi Order—it's hard not to see the influence of what was once a faux-Han Solo vibe in the world Star Wars inhabits now with protagonists like Din Djarin or the aforementioned Cassian.
Maybe Dark Forces didn't need remastering, when its spirit is alive and well in Star Wars in spite of its non-canonical status. But it's at least nice that it's getting one to remind us that one of Star Wars' most iconic video games still matters to the galaxy far, far away. The Dark Forces remaster will release on Playstation 4 and 5, Xbox One and Xbox Series X/S, Nintendo Switch, and PC via Steam, with a release date announcement coming later this year.
---
Want more io9 news? Check out when to expect the latest Marvel, Star Wars, and Star Trek releases, what's next for the DC Universe on film and TV, and everything you need to know about the future of Doctor Who.