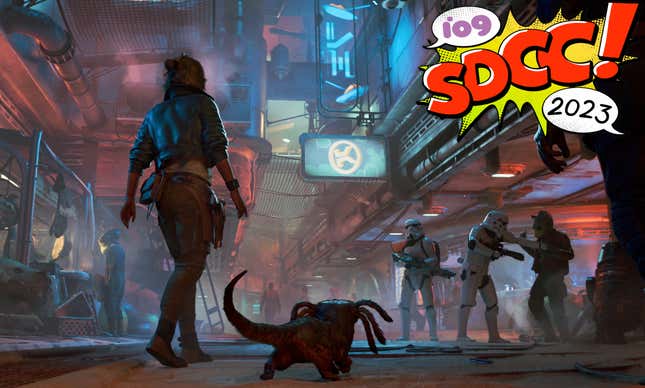 Without Hollywood stars attending San Diego Comic-Con this year, the schedule was full of surprises. One of the biggest though had to be the inclusion of Star Wars Outlaws. The upcoming open world Star Wars game won't hit consoles or PCs until next year, we've already seen a trailer and even some gameplay. What else does Ubisoft have to show at this point?
Spoilers of the Week: July 1st
It turns out, more than expected. Check out the latest look at Outlaws.
In addition to the above footage, the panel was filled with many other enticing tidbits. We already knew the game was set between the events of The Empire Strikes Back and Return of the Jedi, but now we know why and specifically when. The game picks up after the Battle of Hoth because, when Massive (the company behind the game) pitched an open world scoundrel game to Lucasfilm, creative executive Matt Martin said it would be the perfect window for this story. The Empire is as strong as ever but they're so preoccupied with the Rebels that so many other things are going overlooked. In that time Kay Vess, a a brand new thief pretending to be more, will try to survived along with her pet and best friend Nyx as well as ND-5, an enforcer droid who served in The Clone Wars.
If the Empire is looking the other way, obviously someone else is in charge. And here, it's syndicates. Both the Hutts and the Pykes will play a big part in the game, but there's also a brand new syndicate that was created for the game. It's the Ashiga, a new group of fast, cunning warlords based on Kijimi, previously seen in The Rise of Skywalker.
Kijimi is one of the many planet the team has built out for plays to explore too. There's Tatooine as well (which means, yes, Jabba the Hutt is a character in the game, voiced by Dee Bradley Baker, and you can do missions for him) and a new planet created specifically for the game, Toshara.
Toshara was described a "scoundrel fantasy." It's inspired by the African savanna's, but with sci-fi elements and near constant wind. You'll get there by piloting your ship, The Trailblazer, which Kay apparently steals, and which you can explore on your journey. Apparently, it's filled with Easter Eggs teasing at its long history.
We're sure to learn much, much more in the coming months too. Star Wars Outlaws will be out for PlayStation 5, Xbox Series X|S, and PC in 2024.

---
Want more io9 news? Check out when to expect the latest Marvel, Star Wars, and Star Trek releases, what's next for the DC Universe on film and TV, and everything you need to know about the future of Doctor Who.