Starbucks has reportedly decided to pull the plug on viewing explicit imagery in its stores following pressure from an anti-pornography activist group.
Business Insider reported that the ubiquitous coffee house has committed to barring viewing porn in its stores after it was slammed by Donna Rice Hughes, the CEO of nonprofit Enough is Enough. Hughes claimed in a statement earlier this week that the company was "keeping the doors wide open for convicted sex offenders and others to fly under the radar from law enforcement and use free, public Wi-Fi services to access illegal child porn and hard-core pornography."
The company's announcement also follows a CitizenGo petition for Starbucks to "filter pornography and child sex abuse images" posted last week that had amassed nearly 30,000 signatures by Wednesday.
"Apparently, Starbucks cares more about providing paper straws to protect the environment than protecting kids and patrons on its public WiFi!" the petition states. "Starbucks broke its promise to filter pornography and child sex abuse images, despite its public announcement it would voluntarily provide safe WiFi in its restaurants nationwide…an announcement more than 2 and-a-half years ago!"
A company spokesperson told Business Insider on Wednesday that the company had "identified a solution to prevent this content from being viewed within our stores and we will begin introducing it to our U.S. locations in 2019."
G/O Media may get a commission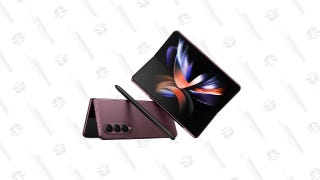 Save Up to $300
Galaxy Z Fold4
It's worth noting that viewing pornography was never actually allowed at Starbucks locations. The company said in a statement to the Verge that "the use of Starbucks public Wi-Fi to view illegal or egregious content is not, nor has it ever been permitted." But the company did previously commit to a filter back in 2016 that until now had failed to materialize.
"Once we determine that our customers can access our free Wi-Fi in a way that also doesn't involuntarily block unintended content, we will implement this in our stores," a Starbucks spokesperson said in 2016. 
It looks like Starbucks is poised to finally make good on that promise.