The long-awaited Locke & Key TV show is still happening—eventually. But now fans of Joe Hill and Gabriel Rodriguez's comic series will have something to tide them over while they wait, in the form of "Small World," a one-shot that's the first new Locke & Key story in three years.

The Los Angeles Times interviews with both Hill (who happens to be the son of Stephen King) and Rodriguez, where they discuss the book as well as the series' percolating TV adaptation. Of "Small World," due in December, Hill says it's a story set in the past:
"Locke & Key" is the story of a haunted New England mansion full of enchanted keys that open different doors and activate different supernatural powers. The stories that I told, over the six books of "Locke & Key," take place in the present day. But there's 250 years of history there. The Locke family has looked after Keyhouse and its many enchanted keys, almost since the beginning of the nation. I always wanted to go back and tell some of those stories. And that's what I'm doing in "Small World." "Small World" is a return to the beginning of the 20th century and some of the stories that I've already told, set in that era.
Of the series—which is getting another try after a 2011 pilot did not get a series order from Fox—Hill says he's optimistic about Locke & Key's chances in the current TV landscape, with players like Amazon and Netflix allowing for more than just the traditional outlets.
G/O Media may get a commission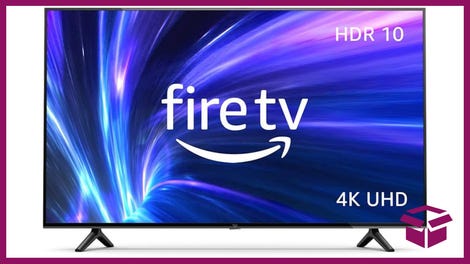 42% Off
Amazon Fire TV 50" 4K Smart TV
He's about halfway through writing a fresh take on the pilot, which will stay "true to the spirit of what's on the page" while offering "subtle, but important changes" to keep fans "off balance." Rodriguez agrees with this approach, noting that as long as the adaptation stays true to the characters, and it stays "both dark and fun," he's on board.
Read the full interviews at the Los Angeles Times website right here.