A few weeks ago, embedded with a patrol in Afghanistan on assignment for the New York Times, photojournalist Joao Silva stepped on a landmine and lost both his legs below the knees. He kept taking photographs the whole time.
Silva stepped on a landmine on October 23, immediately suffering serious injuries to both his legs. In a memo to NYT staff, executive editor Bill Keller wrote, "Those of you who know Joao will not be surprised to learn that throughout this ordeal he continued to shoot pictures." Though medics were nearby and able to treat him just moments after the blast, he has subsequently lost both of his legs below the knees and endured weeks of intensive operations. He's currently recovering at the Walter Reed Army Medical Center in Washington, DC.
A site's been set up where you can buy prints of Silva's work or donate to his recovery fund. The prints range from $99 to $3000 in price and include vintage prints from South Africa as well as more recent ones taken on assignment in Iraq, Malawi, Lebanon and Afghanistan. Should he not require the donations, they'll go to a cause of his choice.
G/O Media may get a commission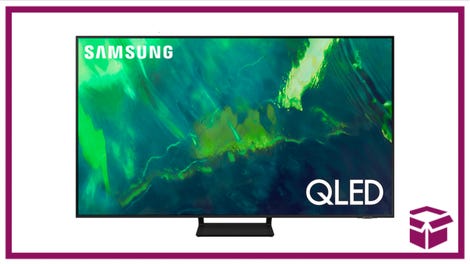 35% off
Samsung Q70A QLED 4K TV
Save big with this Samsung sale
If you're ready to drop some cash on a TV, now's a great time to do it. You can score the 75-inch Samsung Q70A QLED 4K TV for a whopping $800 off. That knocks the price down to $1,500 from $2,300, which is 35% off. This is a lot of TV for the money, and it also happens to be one of the best 4K TVs you can buy right now, according to Gizmodo.
As detailed in this NYT blog post, Silva is an extraordinary photographer who routinely exhibits extraordinary courage in the field.
Those who have worked with him say his bravery is so low key and natural that it is almost beside the point with him. He works on a different level from other photographers. It is very hard to describe, colleagues say, but he makes it seem as if it isn't bravery - just a way of life and an absolute commitment to photojournalism.

Mr. Silva is known in the Baghdad bureau of The Times for his Marlboro cigarettes and Red Bull breakfasts. He is a working-class Portuguese immigrant to South Africa and a high school dropout. He accompanied a friend on a photo shoot in the 1980s and was hooked. He knew immediately he wanted to do photography - photojournalism, at that.
Many photo agencies have pursued Silva in his career but he has routinely turned them down, being more concerned with the photographs themselves than the fame or money they might bring him. And in a time in which we're utterly saturated in images, in which every person with a smartphone is a photographer, Silva's story is a powerful reminder that some people put themselves in harms way every day in pursuit of the perfect shot.
You can keep up to date with Silva's recovery and peruse his prints here. [Support Joao, NYT]