Board games are the ultimate family battle ground, if you don't count dinner time. So gather 'round the kinfolk for the board game that made world domination fun. Plus, play as the bad guy for a change in dark RPG, and another ninja game gets all mystical, all in today's app deals.
iOS: RISK: The Official Game for iPad - $4
RISK was the game I played against my dad. What I should say is, Risk is the game my dad would beat me at every time we played. But not this year. Not with the iPad version of the seminal board game on sale. I'm going to practice against either five of my closest friends or the computer until I become a RISK master. Oh hey, dad is that your army in Africa? Not anymore! Dropped from $7 to $4. [AppShopper]
Playing the good guy is boring. They have all these values and codes of conduct. Zzzzzzz. Dark Fury lets you get your RPG on as the bad guy. Create a squad of minions to battle those pesky humans as you take back the weapons they stole from you. With 50 different underling classes at your disposal, it won't be long before you're king of the world. Take that, Leonardo DiCaprio. Dropped from $6 to Free. [Apps-aholic]
G/O Media may get a commission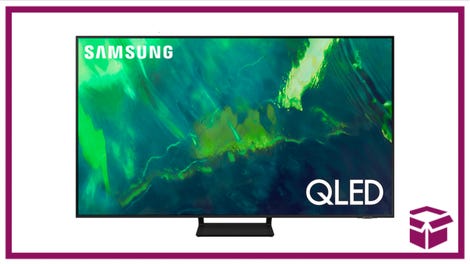 35% off
Samsung Q70A QLED 4K TV
Save big with this Samsung sale
If you're ready to drop some cash on a TV, now's a great time to do it. You can score the 75-inch Samsung Q70A QLED 4K TV for a whopping $800 off. That knocks the price down to $1,500 from $2,300, which is 35% off. This is a lot of TV for the money, and it also happens to be one of the best 4K TVs you can buy right now, according to Gizmodo.
iOS: Mask Of Ninja : Last Hero - Free
Is there anything mystical that can't be attributed to ninjas? Today's magical artifact that's attached to these awesome Japanese assassins is a mask with the soul of past ninjas that give you special powers. Sure, that seems plausible. Mask of Ninja has three different heros with different story arcs. So, you could potentially play this side-scroller three times. I'm sure the number three will be the next ninja power we'll see in a game. Dropped from $1 to Free. [Via Appsylum]
Android: Pocket Informant - Free
Before you get all paranoid, this app will not "drop a dime on you" to the pigs. The Pocket Informant is actually a Get-Things-Done (GTD) app for Android that integrates with your device's calendar. With over 100 different options you can configure the app to work the way you work. Or, you can use the in-app templates and get started on getting your life in order. Dropped from $10 to Free. [Via Apps-aholic]