There's really no sense in buying ringtones anymore. That is, unless you're living in Afghanistan and need to convince threatful Taliban checkpoint guards you're not an insolent Coalition dog, but a Taliban sympathizer. Then your novelty ringtone might just save your life.
The WSJ says that at Taliban checkpoints littered across the Afghan backroads and countryside, insurgents will take travelers' phones and check contacts, music, and videos. If you've got songs or media they think disobey Islamic rules, they might do anything from breaking your phone over your head to making you eat your SIM card. Or worse.
So travelers have started getting local shopkeepers in the know to upload songs, videos, and ringtones that might paint them as Taliban sympathizers to their phones (you can listen to a few in the WSJ post). One hymn—called "Doomsday" and peppered with autotuned singing and gunfire—proclaims "Its Judgment Day for the Satan of the West / The evening is blazing, blazing / The sound of machine guns can be heard / The screaming of the murderous can be heard." Others, like government officials, carry an extra SIM card to pop into their phones for when they leave the capital.
G/O Media may get a commission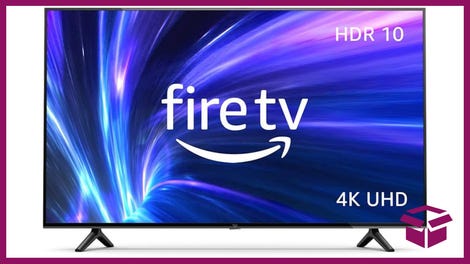 42% Off
Amazon Fire TV 50" 4K Smart TV
That people have to go to such lengths for safety sounds terrifying, and such practices stand a good chance of getting worse as American forces plan to withdraw a third of their troops by September. Still, it's a sobering reminder that things aren't so bad for the next time you're pulling your hair out over your little sister's Ke$ha ringtone blaring at the dinner table. [WSJ]