Who's Doctor Who's time-traveler going to meet next year? How does Supernatural follow that slam-bang conclusion? What shocking choice could await us on Fringe? Plus John Carter Of Mars, Spider-Man, Splice, Jonah Hex, The Gates, Chuck, V and Lost spoilers.

John Carter Of Mars:
Some pics of the landscape in Delta, UT where Andrew Stanton will recreate the look of Mars. There are a couple of large sets being built in this area, but there aren't any photos of those yet. And there's a rocky plain where Willem Dafoe's character, Tars Tarkas, will stride towards John Carter. More pics at the link.

Photos courtesy of John Carter Movie.
Spider-Man: Begin Again:
Alvin Sargent, who has worked on every Spidey movie until now, has been brought in to polish up the script. His polishes usually have to do with adding more emotional heft to the important scenes, so expect this Spidey to have weepy bits once again. [THR]
G/O Media may get a commission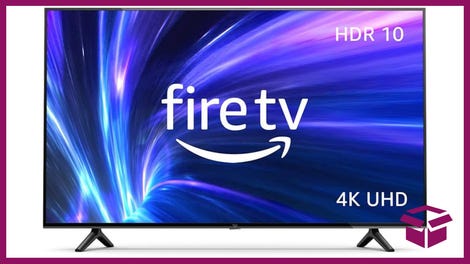 42% Off
Amazon Fire TV 50" 4K Smart TV
Splice:
A new poster gives you a brand new look at Dren, the genetic hybrid baby who grows into a weirdly sexy woman. [ShockTillYouDrop]


Jonah Hex:
We've been seeing this TV spot on the air a lot, but I don't think we've featured it before.

Lost Boys 3:
Lost Boys what now? No, seriously, they're doing a third movie. And here are some thrilling pics. [JoBlo]


Doctor Who:
Joanna Page, star of Gavin And Stacey, is going to play a "long-lost relative" of the Doctor in a couple of episodes of season six — and it could turn into a series regular deal, possibly. This is via the Daily Star, one of Britain's notoriously reliable tabloids, so grain of salt indicated. And yet, I wonder — could the "long lost relative" be Susan Campbell, nee Foreman? [Daily Star via Gallifrey News Base]
Supernatural:
Jensen Ackles (via a translated Brazilian interview) offers some teases for season six that are both tantalizing and potentially troubling:
I'm excited about next season, because we're pushing the "restart" button... For the creative aspect, we need to understand we just got over a gigantic climax and we're getting into an unknown territory. The Apocalypse was avoided. That's why we getting forward a few years and see where the Winchesters are and how it's their lives. I can't help but think of the final scene of The Hurt Locker, when the main character sees himself in front of a shelf with several cereal boxes and doesn't know what to do. The guy disarms bombs in Iraq, but gets lost in the supermarket! That is not his reality, just like not being a hunter looks like a different world to Dean. All his life was dedicated to one single task, almost like a voluntary slavery, now it's time to face the monster of real world. That's totally new to me, through the acting perspective, and I'll explore a lot more of Dean's life, that's why I'm so excited. A kind of introspective tension, like inside monsters.
[Amanda on Livejournal via TV Overmind]
Fringe:
John Noble says the finale will blow you away — and it's a very real possibility that Peter may choose to go with Walternate over "our" Walter. [E! Online]
Chuck:
The Ring once again targets Casey's daughter — the one we met a while back. And the Ring also figures out what Chuck is capable, forcing his dad to come to the rescue. [E! Online]
True Blood:
The upcoming season opener is the bestest ever. And Rutina Wesley says Tara's got a vampire love interest — partly by choice, but mostly not. "He's tall, dark and handsome, with the emphasis on the dark, dark, dark part." And Tara is all over the place, playing with everybody, this season. [E! Online]
V:
The title of tonight's season finale, "Red Sky," refers to something we'll find out about towards the end of the episode, and we'll want to know more about it, says Elizabeth Mitchell. And she hints it may not be the "red dust" weapon from the original series. "There will be some physical activities and there will be casualties on both sides, some pretty big ones, but it will not be just a verbal exchange." The only character who is probably safe is Father Jack, since he's already almost died a few times. [TV Guide]
Ashes To Ashes:
OMG what's going to happen? Here are some promo pics for episode eight. [Den Of Geek]


The Gates:
A new promo for ABC's "Desperate Vampire Housewives" show, airing on Sundays this summer. [SpoilerTV]

Lost:
Possibly your final chance for officially sanctioned spoilers. The Lost cast interviews themselves! [Doc Arzt]

In tonight's episode, a longstanding character dies. (Widmore?) And we learn some cool news for Kate, which could also have implications for Sun. [E! Online]
Additional reporting by Mary Ratliff.