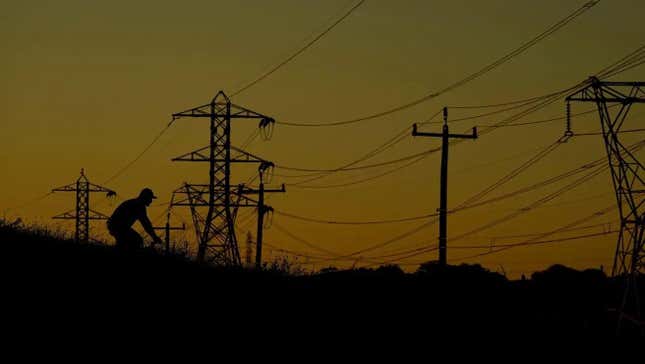 The Lone Star State apparently loves cryptocurrency so much that it's willing to pay mining firms to not do their jobs. One of those mining operations, called Riot Platforms, claims the state's grid operator awarded it $31.7 million in energy credits last month for agreeing to cease operations amid a brutal August heatwave. Riot, according to a press release, only actually mined 333 bitcoins during that month, which comes out to around $8.9 million.

The Biggest Crypto Heists of 2022…So Far
"August was a landmark month for Riot in showcasing the benefits of our unique power strategy," Riot CEO Jason Les said in a press release. "The effects of these credits significantly lower Riot's cost to mine Bitcoin and are a key element in making Riot one of the lowest cost producers of Bitcoin in the industry."
Les said the $31.7 million it received from the Electric Reliability Council of Texas (ERCOT), Texas' independent energy operator, came out to around the value of 1,136 bitcoin. That's worth around three times as much as the Bitcoin the company actually mined in August.
Texas endured record-breaking heat this summer, with temperatures reaching into the 110s for parts of southern Texas. At least 50,000 residents experienced power outages due to strains on an already taxed grid. Fears of even more damage caused ERCOT to issue a Voluntary Conservation Notice, asking residents to limit their energy consumption if safe to do so. ECROT represents around 90% of Texas' total energy load.
As part of ERCOT's "Voluntary Load Response," customers in the state like Riot can opt to reduce energy consumption from its anticipated levels in response to increased energy prices or straining demand. In return, ERCOT says these customers "have the opportunity to benefit financially."
In this case, increased power consumption across the state sparked by a blistering heat wave meant ERCOT needed all the extra energy it could get. That was welcome news for Riot, which, like many in the industry, has struggled to recover from the 2022 crypto winter. Bitcoin mining facilities notoriously suck up vast amounts of energy in order to generate new coins.
Riot and ERCOT did not immediately respond to Gizmodo's request for comment.
Texas' leaders think crypto mining can actually solve its energy woes
Some of Texas' top leaders, including Governor Greg Abbott and Senator Ted Cruz, have welcomed new crypto mining operations with open arms, with hopes the energy-hungry companies could drive innovation and, counterintuitively, actually help solve Texas energy issues.
Those in the "mine, baby, mine," camp argue that the added energy demand brought on by the mining operations could be used as a sort of fail-safe during freezes or other extreme weather events. Rather than rationing energy throughout the state, the mining operations can get paid to simply stop working and free up demand on the grid. It's essentially a win-win, so long as you're comfortable having the energy prospects of millions of residents at the whim of private interest groups' negotiating tactics.

Others, like Ben Hertz-Sharge, the global head of Grid Edge at Wood Mackenzie, are skeptical about further taxing an already strained energy system.
"The analogy I like to use is that if you start smoking two packs a day and then cut back to one pack on holidays, that doesn't make smoking good for your health," Hertz-Sharge said in an interview with CNBC.
Correction: A previous version of this article misstated the value of 333 bitcoins, which is $8.9 million, and not $8.9 billion.