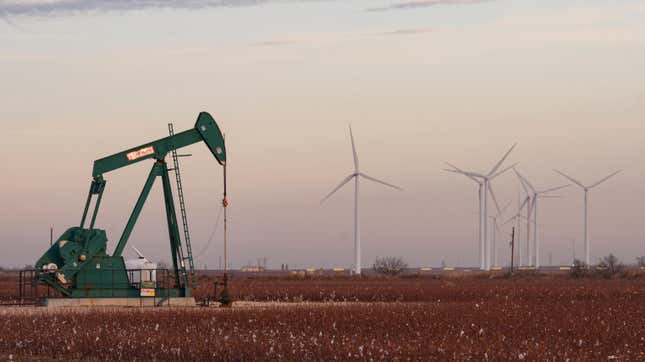 For a crash course in how to fuck up the environment, look no further than the Texas Legislature. At the start of this year's legislative session, lawmakers have introduced a slew of bills with some jaw-droppingly bad environmental ramifications—including bills that would override the EPA's authority and punish people for filing complaints with the state's environmental regulatory agency.

The FTC Just Prescribed a Can of Whoop Ass on Health Data
It's no secret that Texas Republicans are committed to protecting fossil fuels at any cost; this is, after all, the state where the major oil and gas regulatory agency is run by a climate denier. Still, even if you expect the least from Texas, some of the bills on deck seem, for lack of a better word, extremely petty. Take Senate Bill 471, which would charge people a fee for filing a complaint with the Texas Commission on Environmental Quality (TCEQ) if the person filing the complaint already has filed three complaints that year that didn't result in enforcement actions.
The bill's author, Republican State Senator Drew Springer, claims that the legislation is intended to streamline the TCEQ's work. But those who are familiar with the complaint process say that argument is in bad faith—and could be disastrous to controlling pollution in one of the world's biggest oil and gas-producing regions.
"Sometimes, TCEQ doesn't come out [in response to a complaint] until the conditions have changed, so there's nothing to see when they get there," Luke Metzger, executive director at Environment Texas, told Earther. "We're concerned this would have a chilling effect on people looking to file a complaint. We don't think this bill is necessary, and it could be really counterproductive."
One person who knows a lot about filing complaints with the TCEQ is Sharon Wilson, known in some circles as the "methane hunter," who works with Earthworks in Texas to monitor methane emissions and other pollution on the ground. Wilson estimates that she and her colleagues have filed more than 400 complaints with the agency since 2014. She guessed that just a sliver of the complaints she has made have resulted in enforcement actions from the TCEQ.
If the bill is made into law, Wilson said, it would impact not only her and her colleagues but people around the state who are fighting to have TCEQ notice and do something about rampant pollution in their communities.
"If the sites ever improved, I wouldn't be making complaints," Wilson said. "It is very time-consuming to go through the process of making a complaint. People are not going to go through that if the pollution stops. They don't just wake up one day and think, okay, today after I make my kids lunch and take them to school and work eight hours and take my kid to soccer and come home, after all those things, I think I'll call the TCEQ."
The TCEQ bill is still in committee, and there's no guarantee it will advance to become actual law. But the list of potentially disastrous environmental legislation doesn't end there. Here's a quick rundown of other bills on deck this session:
These bills aren't great news. But what worries Metzger more than restricting complaints to the TCEQ or dings on electric lawnmowers is the suite of bills going through the state Senate that would cripple renewable energy while boosting fossil-fueled power. Lieutenant Governor Dan Patrick has deemed these bills a priority for him this legislative session.
The anti-renewables bills, Metzger said, will move to the Senate floor this week or next, where he says they'll "likely" be approved and move to the House. Last time the Legislature was in session two years ago, bills with similar anti-renewables provisions died on the House floor.
"Our hope is that they'll do the same with these bills," Metzger said. But if they succeed this year, bolstered by Patrick's support, it could dramatically change the landscape of a state that leads the country in generating wind and solar power.
"This is the one bright spot for Texas climate action, is the incredible growth of wind and solar," said Metzger. "The projections are just that we're going to build huge amounts of wind, solar, and battery storage, provided the Legislature doesn't fuck it up. That would be a huge setback for the planet, if Texas's renewable energy isn't allowed to continue to grow."