2015 was an insanely wild year in robotics: From leaps in AI technology to piloted, Gundam-like battle machines. We're living in a bizarre, sci-fi world that entangles humans with robots more than ever before. Here are ten of the craziest 'bots from the past year.
---
It was probably the biggest robot story of 2015. In a duel challenge that made international headlines, mecha makers from the US and Japan announced that they're going to throw down, like something straight out of an episode of Gundam. At some point next year, two giant, walking, armed robots will enter an arena—and one will walk out. America's contender? A beast called Mk.II, which was completed last year, but gained worldwide attention this summer. At 15 feet and 12,000 pounds, it can fire projectile weapons at over 130 miles an hour. What kind of 'bot could possibly stand a chance against this futuristic tech? Funny you should ask...
G/O Media may get a commission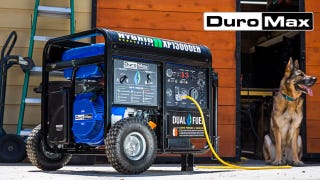 Black Friday Sale
DuroMax Generator Sale
Image: MegaBots YouTube
---
When Mk.II maker MegaBots sent Japan a virtual glove-slap from across the globe, folks were skeptical that Suidobashi Heavy, the Japanese tech giant that made its own enormous mecha, would respond. Well, they did. And IT'S ON, they said. Then began MegaBots' $554,000 Kickstarter campaign to soup Mk.II up to be arena-ready. (We're hoping Kuratas, Suidobashi's entrant, gets similar upgrades!) Speaking of Kuratas: It's a nimbler 13 feet and 9,000 pounds, and has BB-shooting dual gatling guns and touch-screen commands for the pilot. The showdown happens next June—and who knows what kind of mecha-brawling competitive sports league it could spawn.
Image: Suidobashi Heavy YouTube
---
Meet Pepper: The robot that sells out within a minute each time the next wave of a thousand of 'em become available. It's a humanoid that recognizes and responds to human emotions, designed by French robotics company Aldebaran in partnership with Japanese telecom giant SoftBank (which owns most of Sprint). But since Pepper is supposed to coexist with humans, cheering them up in their offices and greeting them in stores, his arrival has unlocked a floodgate of futuristic problems in human-robot relations. One drunk guy in Yokohama kicked one in a cell phone shop, and the way that Pepper talks and interacts is going to have to be tweaked depending on the country and culture. This guy could one day be your cubicle-mate, so be ready.
Image: Tomohiro Ohsumi/Bloomberg via Getty Images
---
It's 2015—so of course, robots have IMDb pages now. Like Geminoid F, the Japanese android straight from the Uncanny Valley joins Meryl Streep and Marlon Brando in the internet's go-to thespian database. She makes this year-end list because she could mark a new trend among filmmakers: Why hire humans, when you can build a robot that delivers a consistent performance every take, doesn't complain, can work 24/7, and doesn't need pesky perks like salary and sleep? Geminoid F plays a poetry-reading mother figure to a human co-star in a post-nuclear fallout drama. Don't be surprised if emoting machines slowly infiltrate Hollywood in the coming years.
Image: Tokyo International Film Festival
---
If you'll recall, Boston Dynamics is the same lab that brought us Big Dog: The terrifying, horse-sized, four-legged alien walker that runs through forests and can withstand a good roundhouse kick (unlike Pepper). Well, Boston Dynamics used similar engineering to spawn ALTAS: A similarly scary machine, only humanoid. The superstrong beast's prototype, which can traverse any terrain, got some huge improvements this year. I would not want to be chased by this thing in the woods, but it's still damn cool.
GIF: Boston Dynamics/created by Andrew Liszewski
---
The tale of hitchBOT is kinda heartbreaking. Designed as a social experiment, the hitchhiker, made of a beer bucket and pool noodles, had successfully traveled through Germany, Canada, and the Netherlands through the kindness of strangers. But in the US, things went a bit differently. In a story that attracted international news, hitchBOT was supposed to go from Salem, Mass. to San Francisco, but got as far as Philadelphia before some local ne'er-do-wells completely dismembered the robot and left it for trash. Similarly to Pepper, hitchBOT hints at a potentially problematic future, as some humans will treat robots like crap. hitchBOT got the last laugh though: The original model is being enshrined in a national technology museum.
Image: SVEN HOPPE/AFP/Getty Images
---
This mechanical cat of prey first appeared back in 2012, but this year, MIT's cheetah bot got a big upgrade: It can run and jump over objects without breaking its stride, no matter how many 15-inch-high barriers you can throw on it on a conveyor belt. While a lot of the robots on this list are breakthroughs in achieving human-like agility or AI, this robot's strengths lie in its ability to mimic one of the fastest members of the animal kingdom.
GIF: Boston Dynamics/created by Andrew Liszewski
---
Japanese roboticst Tomotaka Takahashi sent the first talking robot to the International Space Station, and now he wants to send a miniature talking robot into your pocket. Dreaming of being the Steve Jobs of robots, Takahashi has teamed with Sharp to roll out RoboHon, a robot that's also a smartphone. Takahashi thinks the key to making robots the next big consumer electronic is to make them more approachable. He thinks that a cute little buddy can be robots' secret weapon. Unlike America, which takes a rather militaristic, Terminator-like approach to robotic aesthetics, Japan's is less threatening and more welcoming. We'll see what shifts in industry trends RoboHon and Takahashi's army of kawaii mini-bots have in store for 2016, which is when RoboHon goes on sale.
GIF: RoBoHoN YouTube
---
Star Wars: The Force Awakens took our planet by storm this month, and with it came a smaller, even cuter droid than R2-D2, and it's quickly rolling its way into the hearts of millions of nerds worldwide. It's name is BB-8. The best part? BB-8 actually freakin' exists as this robotic toy. Gizmodo reviewed of the $150 sci-fi stocking stuffer, which was designed by Sphero—a company that's made a name for itself by making robotic balls, which is exactly what BB-8 is. Unlike good ol' R2, BB-8 is way tinier and more portable, but just as sassy as his spiritual, beeping predecessor.
GIF: Andrew Liszewski
---
Proving that robots can be the stuff viral dreams are made of, this industrial robot arm that can never get winded or pull a muscle slices a row of fruit with samurai-like precision. The robot, designed by robotics company Yaskawa Electric, goes blade-to-blade with Isao Machii, a master swordsman. The marksmanship is slightly unnerving—actually, it's pretty freakin' terrifying—but undeniably badass.
---
And that's what each robot on this list is: Some are designed for combat, others for entertainment, and some just to put a smile on your face. But the leaps in AI and hardware that have given rise to all of them affirm that, heading in 2016, robots are going to be cooler than ever.

GIF: Sploid
---
Contact the author at bryan@gizmodo.com, or follow him on Twitter.