We want Groot! The movie-going mobs have spoken and are clamouring for a little tree-person of their own. So here's a look what can you get to currently scratch your Groot itch - and some fan made creations that are awesome enough to inspire you to make your own.
Header Image Credit: Pseudofolio on Tumblr
The Best You Can Buy...
5. Lego Groot
This bricky version of Groot is part of Lego's series of Guardians of the Galaxy sets from this summer - he's found in the Knowhere Escape Mission set. Standing much taller than your average Lego minifigure, Groot's design mixes up standard Lego bricks and unconventional ball-joint pieces to make something that's a little more poseable than your average Lego figure. There's even a place on his upper arms to put a Rocket Raccoon minifigure!
Pros: Made of Lego (and therefore is adorable), small enough to keep as a knick-knack on your work desk, Comes with a Rocket Raccoon to buddy up with.
G/O Media may get a commission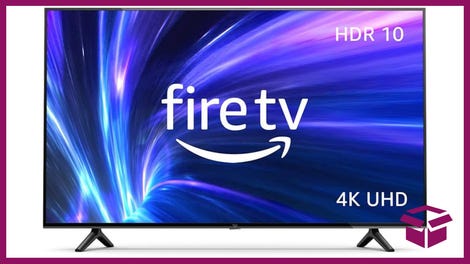 42% Off
Amazon Fire TV 50" 4K Smart TV
Cons: A running theme with some of these Groot toys is going to be that in order to get to the Grooty good stuff, you'll need to pony up a little more. This version of Groot is currently only available in one set (the same for the Rocket Raccoon and Nebula figures in the same set), which is currently going for $36.99 on Amazon. $37 is a bit much just to get Groot, especially as apart from the figures, the rest of the set isn't all that great.
4. Funko Pop! Groot Bobblehead
Funko have been making their Pop! Vinyl toys for what feels like all of human creation - so it's not at all surprising to see chibi-ised versions of all the Guardians show up in their Marvel range. This cutesy version of Groot is about 3 and 3/4 inches tall, and has no articulation except for his bobble-head, ready to jiggle around at a moment's notice.
Pros: Cute, one of the cheapest bits of Groot merchandise out there (with an RRP of around $10), and once again the smallness factor makes it an ideal desk-toy for the office comic book fan.
Cons: The Funko style might not be for everyone, especially if you're looking for something a little less stylised and a little more closer to a perfect replica of the movie likeness. And even if you do like it, it might be a bit tough to get - it's sold out or on back order in a lot of places, and the aftermarket is jacking up the prices to some absurd levels, some even going for over 3 times the usual price.
3. Hot Toys Groot and Rocket 1/6th scale Collectible Figures Set
Now out come the merchandising big guns!
Revealed back in July, this stonking set from the consistently amazing Hot Toys is going to be the most accurate version of Groot you can get outside of somehow creating a sentient Hologram out of the movie's CGI model. A whopping 15 inches tall, this super-fancy Groot is packed full of incredible detail and comes with a bunch of cool accessories - including a little Potted baby Groot from the end of the movie. Not to be out done, this special double pack set also bundles the equally amazing Hot Toys Rocket Raccoon in as well, for the ultimate rendition of these two loveable bounty-hunters-turned-heroes.
Pros: The best looking Groot out there, comes with baby Groot, cool variety of alternate hands, faces and poseability choices, pretty much the ultimate Groot figure.
Cons: With great detail, comes even greater price tags. This collectors set is for the hardcore figure fan, and probably not one you'll play with that much instead of keeping it safely on display: it's currently going for $360 on Sideshow Collectibles (You can also get Groot on his own for $200 - but bear in mind this version doesn't come with the extra bonuses like the 'Angry' Groot Head or the little potted Groot). It's also not going to be out until the middle of next year, so if you're desperate for something, anything Groot, you'd have to wait a while for this one.
2. Marvel Legends Infinite Build-a-Figure Groot
Image Credit: Preternia.com
As far as a Groot for putting on your desk or playing with goes, this one - part of the Marvel Legends Infinite wave of figures in July that featured all of the movie Guardians as well - might just be the perfect choice. At just around 9 inches tall he's juuust small enough that you could get away with putting him on a work desk. But its real strength is in the figure's detail and articulation. Aside from Hot Toys Groot, this is easily the best likeness of the character, and the large amount of articulation lets him sit in a variety of fun poses - as someone who actually ones one, I can easily say that this isn't just a good Groot toy, it's a damn good action figure in general. There's just one pretty big caveat that we'll get to in a second...
Pros: Really good sculpt, Great poseability, the 'dream' Groot action figure.
Cons: Here's the kicker though - This Groot isn't something you can easily go and pick up in a store. Groot is a 'Build-a-figure': bits of him come with each of the 6 figures in the Guardians of the Galaxy wave (Star-Lord, Gamora, Drax, Rocket, and Comic Book versions of Nova and Iron Man), and then you put them all together yourself to get the complete figure. That means what would otherwise be a $25-ish 'deluxe' figure is suddenly $120's worth of action figures. Don't get me wrong, they're all lovely figures, but if you just want a Groot - hell, if you just want the Guardians, because you need to buy Nova and Iron Man to get all the Groot pieces - it makes it a pricey endeavour. The aftermarket for completed Groot figures isn't any better either, unfortunately.
1. Funko Pop! Dancing Groot
Is it cheating to have two different versions of the Funko Pop! Groot on this list? If it is, I don't care. This little guy lit up the internet when he was unveiled a few weeks ago , and for good reason - Dancing Baby Groot is the most adorable little hit of 2014, and everyone wants a piece of the action. Like the 'adult' Groot Pop! toy, this is also a bobblehead - so he can bop along to an awesome mix of your own choice! Hooray.
Pros: Do I even need to list something here? Look at him!
Cons: He's not actually out yet, but will be soon according to Funko. And unfortunately, he doesn't have an inbuilt soundclip of I Want You Back to play when he's doing his dancing thang. You'll have to provide that yourself.
And The Best That You Can't...
Okay, so you can buy this from Etsy, but they're made to order and not 'Official', so there. It was too nice to not include! This little 6-inch plush toy is made out of felt and embroidery stitching looks soft and huggable. D'aaw.
Pros: Can actually buy, cuddly, cutesy aesthetic.
Cons: It'll take a while to get to you - as Celtic Dragonfly makes them by hand to order, it'll take a few weeks before you can have you own little Groot.
4. Dancing Groot Cupcakes by MyRecipes.com
All the cuteness of dancing baby Groot, all the tastiness of Cupcakes, in one delightful package. It's like the internet made real, via an Oven. Youtuber Koalipops has crafted these lovely little cupcakes, complete with biscuit Groots sticking out of them. Yum!
Pros: Cute, simple enough to make yourself - MyRecipes even has a PDF stencil to make cutting your Groots out even easier - very tasty (depending on Baking ability).
Cons: If they are really tasty, they're not going to last long. Probably not the best if you want a permanent Groot to display.
Whoa. This one of a kind statuette by DeviantArt user BastardPrince (real name Hiroyasu Ike) is made out of clay, and blends some realistic detailing - I love the effect of the moss over the wood - with a Chibi-esque artstyle to creat a very cute, yet very textured Groot.
Pros: Looks amazing! Not much else you can say about something like that.
Cons: Sudden realisation that as there is only one of these in excistence, is basically 0% chance of you ever owning it.
CraftyisCool's hand-crocheted Groot looks amazing - the texture of the crochet actually emulates Groot's bark pretty well. Bonus points for being one of the very few Amigurumi Groots out there that is the full sized Groot, instead of the dancing version. Adult Groot needs the love just as much!
Pros: Probably extremely soft (and therefore delightfully huggable). Closest to a Groot doll you can get.
Cons: Like the statue above it, it's a one off - so unless you're keen to break out a few crochet hooks to make one yourself, it's time to start lamenting that you can't have one again.
Just as a Dancing Groot topped the 'Official' list, a Dancing one has to top the fan-mades. Patrick's amazing toy takes a Movin' & Groovin flower toy he found on eBay and transforms it into a battery-powered Baby Groot that can boogie all night long.
I mean, come on, just look at it in action and see for yourself:
Absolutely. Amazing.
Pros: This basically the toy everyone wants Marvel to actually make, isn't it?
Cons: There are no cons to this bad boy - you can't even lament that you can't have one yourself, as Delahanty even posted some detailed instructions on Mashable as to how he made it.
---
You're reading Toybox, io9's new blog for all things pop culture. From merchandise to awesome fan creations, TV recaps and critical commentary on the hot topics of the day, you can find it all here!