Live-streaming cleans up its act, YouTube confirms its ad-less subscription service, and the Apple Watch you REALLY want. All the news and rumors you missed all on BitStream.
Unless you were in the middle of an internet detox yesterday, you probably noticed that some people got their hands on a new, fancy Apple Watch, and took the opportunity to wax poetic. And while the general consensus condemns the wearables as painfully "first-gen," Instructables, the website for makers and tinkers, has its own DIY smartwatch that doesn't disappoint. It's call the Apple II Watch. No, it's not a successor to Apple's luxurious wearable, but rather an homage to, well, Apple II, the 1997 8-bit computing wonder. The absolute best part? It even comes with miniature floppy disks. [Instructables]
Apps and Devices
Apple secretly bought an third-party keyboard company called Dryft, an app that specializes in custom software keyboards. Looks like Apple is ready to up its keyboard game. [TechCrunch]
Live-streaming has a harassment problem (of course), but Periscope's followers-only mode helps combat the online negativity. [The Next Web]
Netflix tries to make an Apple Watch joke but ends up poignantly describing what's wrong with the world.
Rumors!
Samsung displayed surprising restraint at Mobile World Congress this year by not revealing 20759283 smartwatches, but it might finally be prepared for its first round wearable. [Android Community]
G/O Media may get a commission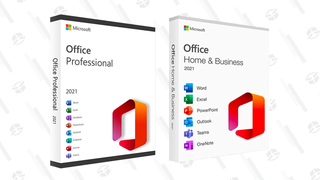 89% off
Microsoft Office Professional 2021 Lifetime License
Apple and Disney are in talks on what channels will offered on Apple's new TV service, with ESPN being the gold prize. [Patently Apple]
Get ready for another subscription service. Google may launch its pay-for version as early as this year. [Bloomberg]
Pretty LOL if true, but Google may be looking into buying Twitter. At what point do we just start calling it the Googlenet? [Telegraph]
Watch this amazing timelapse of our sun and realize how fragile and insignificant your life is.
What You Might Have Missed on Gizmodo
Microsoft Surface 3 Review: The Tablet I Want At The Price I Don't
7 Machines That Are Meta as Hell
Dell's Android Tab for Work Looks Great—If That's a Thing You Want
How Science Is Making It Easier To Read Screens in One Glance
Happy 5th Birthday, Apple Watch!
DJI Phantom 3: A Totally Loaded Video Drone For Cheaper Than You'd Think
Seriously, Stop Demonizing Almonds