In the last few years, Ikea has shrugged off its false perception of a purveyor of cheap furniture and started selling some truly stunning stuff. For 2017, the Swedish flatpack furniture maker mixes classic and modern designs. But for every good-looking piece, there's a terrible one that some poor college student is going to get tricked into buying.
Is AI Moving Too Fast? | Future Tech
Of course, knowing what I know about the company and its shady history, I can't help but wonder how some of this well designed home goods could be so cheap. I also can't believe how utterly impractical some of them are.
So here's a breakdown of best and worst items coming to the new Ikea catalog. And good luck trying to find them in the maze that is every Ikea store on the planet, starting this fall.
G/O Media may get a commission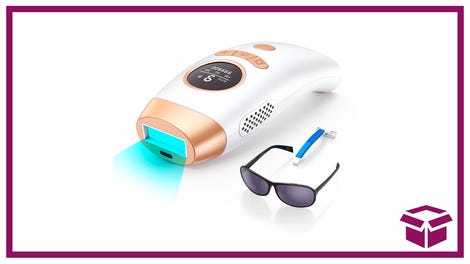 58% Off + Coupon
IPL Hair Removal Device
BEST: Vallentuna three-piece sectional - $1300
If you like a little breathing room with your furniture, the modular design of the Vallentuna couch is just great. You can dance between color, materials, sitting room, or storage for whatever your space requires. There's even a sofa bed module that will surely give your guests a good backache.

---
WORST: Barkaboda countertop - $230
With this wood countertop, the devil is in the details. Although it uses a solid wood on the outside, the rest is just a crappy particleboard core. Nah.
---
BEST: Knotten Standing Desk - $150
Yeah, IKEA has more technologically equipped standing desks than the Knotten, but I just love this little guy. That may be because I live in a cramped apartment in desperate need of a desk of any kind.

---
WORST: Sunnersta Mini Kitchen - $112
I'm all for cute, tiny spaces, but this kitchen is kind of impractical in almost every sense. I mean what could you really make in that kitchen? Maybe a salad...and a...I don't know...a mean PB&J? Pass.
---
BEST: Sunnersta Cart - $30
It's not all bad news. For only $30, this simple little cart classes up your boozy parties on the cheap.
---
WORST: Gronadal Rocking Chair - $250
This is IKEA overtly gunning for the Pottery Barn crowd. One plus is that the chair is probably ultra lightweight so you can pick it up and put it wherever, but for $250 it doesn't really have much going for it.

---
BEST: Varv Clamp spotlight - $35
For voracious readers, lamplight is crucial. But if you have no room for an end table, IKEA's clamp lights have always been great. The new brushed metal Varv also brings some much needed design chops to what have usually been pretty utilitarian fixtures. If there's one thing I'm getting most definitely, it's this guy (in silver).
---
WORST: Kvistbro storage tables - $60
The more you look at this seemingly attractive storage thingie, the less sense it makes. All those holes mean you can't put anything relatively small in there, and if you have a bunch of shit on the top, you have to take that all off to get to the stuff that's in the basket. It's also meant to display your storage, which is something I've never ever wanted to do.
---
BEST: Lixhult Cabinets - $15 to $35
Ikea seems to be doubling down on modular furniture, and these Lixhult cabinets are the perfect example of why this approach is so smart. With different colors, sizes, and prices, you can mix and match these guys depending on your budget and decor. The vivid primary color options are great for kids' rooms, and that neutral white is just plain classy.
---
WORST: Ändlös Candlestick - $6
I can't decide if this belongs in the apartment of an obsessed Hamilton fan or maybe some IKEA-influenced redesign of Slytherin's common room. Please do not buy this.