John Savio, the young man who wowed us last year with his iPhone 3GS costume, has made the relevant upgrades and is back with an amazing iPhone 4 costume. It's the Citizen Kane of iPhone costumes, really. Just watch.
Last year's costume, which Savio created in collaboration with friend Reko Rivera, was impressive for incorporating a working TV as the display. Hooked up to a real, tiny iPhone, it gave the appearance that the costume was really a working smartphone. It was genius.
But the, erm, industrial design of the costume left something to be desired—the corners were too square, the costume too thick.
G/O Media may get a commission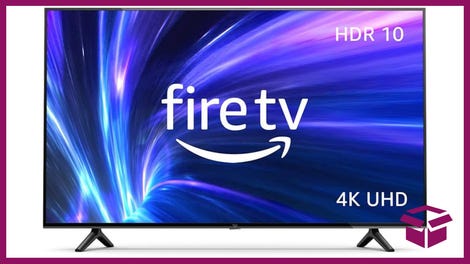 42% Off
Amazon Fire TV 50" 4K Smart TV
This year's iPhone 4 costume looks like an iPhone 4. Like, exactly like an iPhone 4. It is thin, has gently rounded corners, and even sports a LED light on the back as a flash. I firmly believe that there should be an employee wearing one of these in every Apple Store. According to Savio's YouTube description:
John Savio and Reko Rivera went their separate ways. John created the upgraded rendition of the iPhone 4 featured here at 10x to scale, complete with a 40" LED LCD Panel, a Jailbroken iPhone 4, VGA out from the iPohone, LED Back Camera Light, weighs roughly 75 lbs and uses a mini 12v Battery with 2+ hours of battery life. The costume took a total of 3 days / 40 hours to complete.
At least we know there will be one white iPhone 4 in the wild this Halloween. [YouTube via CrunchGear, Images via GuyPhone Flickr]