To find out the best Windows laptops of 2009, we checked in with Mark Spoonauer who, as editor-in-chief of Laptop Magazine and Laptopmag.com, oversaw 130+ notebook and netbook reviews this year. If you're buying, buy one of these.
Under $400
Acer Aspire 1410


Starting Price: $399
This 3.2-pound ultraportable is such a sweet deal it makes us question whether netbooks are long for this world. Acer stuffed a dual-core Celeron processor (about double the performance of Atom), 2GB of RAM and Windows 7 Premium inside a 11.6-inch system with a full-size keyboard—all for just $399. Plus, you get 6.5 hours of battery life. Sure, the 160GB hard drive is a bit skimpy, but the 1410 is a real PC you can take anywhere. [Review]
Under $700
Gateway NV

G/O Media may get a commission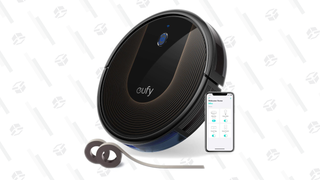 48% Off
Eufy BoostIQ RoboVac

Starting Price: $599.99
The NV proves that you can get a good-looking budget laptop that performs. In addition to four color choices (blue, brown, read, and black), this 15.6-inch notebook sports a fashionable metal hinge and glowing LED controls. Under the hood the NV satisfies with the combination of an Intel Core 2 Duo CPU, 4GB of RAM, and a 320GB hard drive. Our only nitpick is the narrow touchpad button. [Review]
Asus UL30A


Starting Price: $649.99
If we had to pick a notebook of the year, the UL30A would be it. Why? Because this 13 incher is light enough to take anywhere yet offers enough pep to be your primary machine. This 4-pound ultraportable lasted nearly 10 hours on a charge in our tests (continuous surfing over Wi-Fi), and its ultra-low voltage Core 2 Duo processor can easily handle Windows 7. Bonus: 500GB of storage is nice for the $650 price. [Review]
Under $1000
Dell Studio 14z


Starting Price: $749.99
Think of it as the poor man's MacBook—with better specs and sound. Dell's 14-inch thin and light notebook weighs in at just 4.4 pounds and features Nvidia 9400 graphics for extra multimedia punch. But unlike the entry level $999 Mac, the Dell offers 70GB more hard drive space, superior speakers, and a backlit keyboard for $160 less. The only trade-offs are the lack of a DVD drive and the need for an adapter for plugging in memory cards. [Review]
Under $1500
Toshiba Qosmio X505


Starting Price : $1399
Ideal for multimedia mavens and good enough for gamers, the 18.4-inch Qosmio X505 brings serious muscle in the $1,499 configuration, including a blazing Core i7 CPU and Nvidia GTS 250M graphics (with 1 GB of dedicated video memory). We also dig the classy glossy black design with metallic red accents, integrated Blu-ray drive, and booming Harman Kardon speakers. If you want to step up from the 1680 x 945 display to a full HD screen, splurge for the $1,899 model, which also sports 6GB of RAM and an SSD. [Review]
ThinkPad T400s


Starting Price: $1599 ($1359.15 after coupon)
If BMWs are the ultimate driving machines, ThinkPads are the ultimate business machines, and this is the flagship vehicle. The T400s measures just 0.8 inches thick and weighs 3.9 pounds, and it's decked out in supersturdy magnesium (for the bottom and deck) and carbon fiber (for the lid). More important, this 14-incher blows away the competition in terms of ergonomic comfort and performance—when you spring for the 2.53-GHz processor and 128GB solid state drive. [Review]
To see all of Laptop's top picks of the year, click here.