The New York Comic Con is a frothing bouillabaisse overflowing with panels and pageantry. Here are some of the juicier news bites to come out of Javits Center this weekend.
- Geoff Johns announced that Hot Pursuit, a police officer who can use the Speed Force to power his motorcycle will debut in the team series The Flash: The Speed Force. The identity of Hot Pursuit will surprise readers.
- 100 Bullets team Brian Azzarello and Eduardo Risso will be reuniting for an unnamed project.
- At the IDW panel, Chris Ryall announced that Eric Powell of The Goon would be helming a new Godzilla series starring plenty of old-school Toho monsters, including Mechagodzilla, Mothra, and Rodan. Tony Lee also announced that he would be penning an 11th Doctor Doctor Who series come January.
G/O Media may get a commission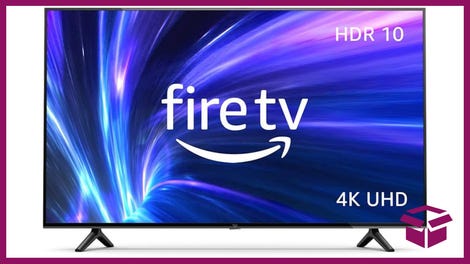 42% Off
Amazon Fire TV 50" 4K Smart TV
- Attendance hit 95,000 this year, up from 77,000 in 2009. [icV2]
- Dark Horse will be launching new comics based on Dollhouse and The Guild. [Comics Alliance]
- Brian Michael Bendis and Michael Gaydos will reunite for a new Alias miniseries [CBR].
- Iron Man will be renumbered at 500 and War Machine will get his own series, War Machine 2.0. [Comics Alliance]
- Kotaku was on hand to check out MODOK's debut in Marvel vs. Capcom 3 and the resurrection of the X-Men arcade game on Xbox Live Arcade and Playstation Network. Welcome to die!
- J.D. DeMatteis leaves Ardden Entertainment on the eve of the Atlas Comics relaunch. [Newsarama]
- Marvel's next big X-Men event? The mysterious "Age of X," which debuts in January. At Marvel's X-Men panel, it was noted that this name ties into the famed Age of Apocalypse series in some capacity.
- Brian Azzarello and Matteo Casali will be penning Batman Europa, a miniseries about Batman and the Joker traveling across Europe together to find the cure for a mysterious virus. [Bleeding Cool]
- Stan Lee is penning a futuristic Romeo and Juliet comic. [Deadline]
- He's also creating superheroes for all 30 NHL teams and creating motion comics with a Japanese metal band. Pretty productive for 87.
- Jason Aaron is helming Astonishing Captain America, which is not a tie-in with the new movie. [Bleeding Cool]
- Archie Comics is releasing a new series of Mega Man comics. I had such a jones for their Teenage Mutant Ninja Turtles line back in the day. [CBR]
- Anthony Bourdain will be penning Get Jiro!, a series about a futuristic sushi chef, for Vertigo Comics.