Is AI Moving Too Fast? | Future Tech
Because it's important, the New York Times took a look at various creams that promise better abs, no crunches required. Packed with skin-tighteners like caffeine and aminophylline, these products can actually make your stomach look leaner than it really is.
Lab Series Skincare for Men Ab Rescue Sculpting Gel ($30 for 6.7 ounces). Ideal Marketing Concepts' AmiLean lotion ($70 for eight ounces). It Cosmetics' Abs in a Box Kit ($34.50). These are the tools chiseling illusory six-packs in the nation's stomachs. They all sound like something that you'd see on your TV at 3 in the morning after a Slap Chop commercial, but apparently they kinda actually work.
Stefan Pinto, the freelance fitness journalist in LA pictured above who has been using the Ab Rescuing Sculpting Gel since July, reluctantly endorsed the product: "If you have abs and you want to make them really pop and show up more, then fine, go ahead and use this." He eats a bunch of vegetables and works out all the time, though, so he says not to buy it if you're expecting the gel to do all the work.
G/O Media may get a commission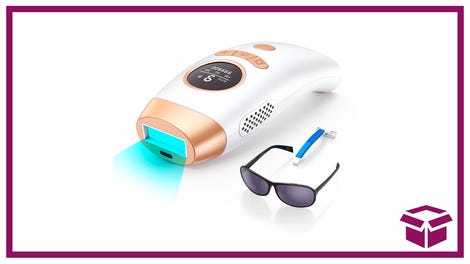 58% Off + Coupon
IPL Hair Removal Device
But maybe he just wants to keep this magic six-pack goo to himself, because Dr. Macrene Alexiades-Armenakas, a New York dermatologist, says that there's a scientific basis for these caffeine-laced creams improving your Situation:
When you add caffeine it causes blood vessels to restrict, and it turns out that's a great trick for making skin appear less puffy.
Melanie Mills, the make-up artist responsible for the enviable abdomens on "Dancing With the Stars," offers further advice for making your stomach seem more six-packy:
The secret to tanning abs, Ms. Mills said, is "contouring the recesses." After applying a product like St. Tropez Self Tan Bronzing Spray ($35 for 6.7 ounces), she recommends using a finger to spread a dab of tinted face lotion like Wash Off Instant Glow Face ($15 for 1.6 ounces) in abdominal indentations.

"Even if guys don't have the full-on total abs, just a line down the middle of the stomach helps create some definition," Ms. Mills said.
Sounds good! I'd give this stuff a shot if I didn't blow all my cash on those calf implants. [NYT]