The downright futuristic Morpheus prototype lander kicked off its newest round of testing with an anticlimactic soft abort ending the test before it started. At least this wee frog got a great view of the excitement!
Top image: Morpheus fuelling up with liquid natural gas for a tether-test (left). Small frog hitching a ride on the science team's truck windshield. Credits: NASA\NASA
Tether test 11 in April 2011. Image credit: NASA/Joe Bibby
Morpheus is a futuristic lander prototype intended to ferry robots, rovers, and labs around Earth orbit, lunar landings, or asteroid rendezvous. Its previous testing focused on an automated hazard detection and avoidance system, including some downright gorgeous night-tests. The prototype survived 27 integrated vehicle tests with engine ignition, adding up to a total of 1,134 seconds of engine burn time so far.
G/O Media may get a commission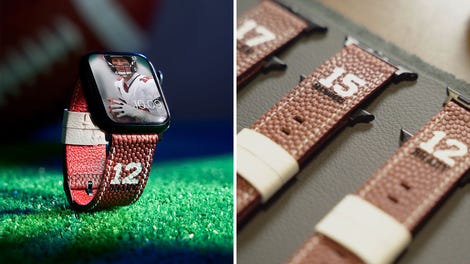 Official NFL PRODUCTS
Official NFL Apple Watch Bands
The last round of testing ended half a year ago when the team took a break to crunch data. After a six-month hiatus while the team analyzed and incorporated data from the last testing series, the Morpheus lander is back in action. And this time, a small froggy hitched a ride on the windshield to watch the launch. Before you get too concerned about the frog's safety, the science team emphatically promised our small friend would be much safer than the unfortunate frog blown high during the LADEE launch:
Theoretically, the latest tether test had a 40-second planned trajectory of firing the engine, ascend to 1.52 meters, hover, rise up to 1.73 meters, hover again, then descend back to Earth.
Bravo vehicle powering up. Image credit: NASA

The prototype was fuelled and lifted into position, the live feed was running, the engines ignited, and then... nothing.
Something went awry outside acceptable parameters and triggered an automated abort, shutting down the tether test before it even really got started. While the team knew right away something was wrong, it took a few hours to determine the error was caused by a flaw in the remote control system.
Crews checking out Morpheus before the test attempt. Image credit: NASA
Thankfully, that's easily fixed. The next possible test-window is December 2nd.