I sat for a while trying to figure out what image should be at the top of this post. Punching in different keywords—hurricane, wildfire, heat wave—turned up photos from around the world. Eventually, I settled on Southern California's Woolsey Fire bearing down on the mansions of Malibu, because it best encapsulates this moment in time. It's the perfect metaphor for 2018, the year when climate change's influence on our weather crystalized further, when it the flames showed up in our proverbial (and in some cases, literal) backyard. And the planet, our home, will go up in smoke if we don't act soon.

It wasn't just fires either. Heat, winds, water, and other weather disasters created horrific damage all over. Here are all the ways the world burned in 2018, a catastrophe that will only get worse if we don't address climate change soon.
Flames
The Woolsey Fire was a $1.6-billion disaster that would've been the worst imaginable fire this year if not for what was happening in Northern California at the same time. The Camp Fire burned an entire town to the ground, left dozens dead, thousands without a home, and caused California to temporarily have the worst air quality on the planet.
But California's fire story doesn't even stop there. In August the Mendocino Complex became California's largest in history, just a year after the Thomas Fire took the title. Oh, and of course there was the Carr Fire, which also cracked the list of most destructive fires in California's history and spawned a massive firenado.
And flames were hardly limited to California. British Columbia saw day turn into night thanks to wildfires. Sweden went up in smoke. So did Siberia. Even as winter has quashed the flames in the northern hemisphere, now it's Australia's turn to face unprecedented fire conditions.
G/O Media may get a commission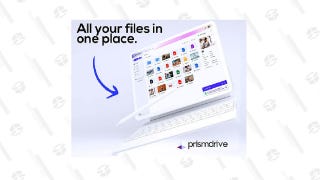 Save 97%
Prism Drive Secure Cloud Storage: Lifetime Subscription
Heat
You can't really have flames with heat. And in a warming world, there's heat in spades. This year will likely go down as the fourth-warmest on record for the globe. Next year could be even hotter. While only the Earth itself really experiences the global average temperature, the rest of us felt its rise in the form of heat waves.

The aforementioned Scandinavian fires would've been impossible without record heat that seared the region this summer. In fact, much of Europe was gripped by heat, and weird things happened. The ice on top of Sweden's tallest mountain shrunk so much, it lost the title of tallest mountain. England's long-buried ancient villages emerged in the form of crop markings.
Then there were the records. Temperatures rose above freezing at the world's northernmost weather station in the dead of the dark, Arctic winter. Japan had its hottest day ever recorded. A heat wave led to the hottest day ever recorded in all of Africa. Pakistan saw the hottest April day ever recorded on Earth. Death Valley recorded the hottest month on Earth period.

It was hot, y'all.
Waves, wind, and rain
After 2017, you would think we could get a break with the hurricanes and typhoons and whatnot. But no.
The U.S. saw record-setting Florence and Michael devastate North Carolina and Florida, respectively. Each storm is a multi-billion dollar disaster, marking a second straight year of multiple violent hurricanes hitting the U.S. A freak tropical storm also made landfall in the Great Lakes, because why not.
Other cyclone basins also delivered punch after punch after punch. The eastern Pacific churned out multiple storms that underwent rapid intensification. In the central Pacific, Hurricane Lane brought torrential rain to Hawaii, while Walaka washed an entire island off the map.
In the western Pacific, we saw a freaky annular typhoon with a huge eye as well as widespread destruction in the Marianas Islands thanks to Typhoon Yutu. The basin also spawned the strongest storm on Earth of 2018: Super Typhoon Mangkhut had winds reach 200 mph over the open ocean, though thankfully they quieted down by landfall.
---
This list is hardly exhaustive, but then, we'd be here for days if it were. The point is we're seeing more catastrophic weather, climate change is in part behind it, and the time to address it is in short supply.
The weather won't stop in 2019. There will be more records and losses and questions about how to rebuild or even if we should. But that doesn't mean we're screwed. It means we need courage, and on that front there are some encouraging signs, including new members of Congress who actually get the monumental challenge we face and are willing to rise and meet it. Hopefully with their leadership, 2019 will look a little less bleak.