Gaming laptops are going mobile. Of course, the word "laptop" means that's always been the idea behind these machines. But until recently, gaming on the go meant being strapped with a pretty hefty piece of computing. Such massive hardware, usually with a scorching hot chassis and shit battery life, makes you wonder if it's even worth it.
Dell and Alienware are returning to their mobile ambitions with Alienware 13—stress on the word "ambitions." The company's hardware has always attracted gamers with plenty of discretionary income, but their brick-like quality and back-breaking weight was an unfortunate side effect. With the Alienware 13, the engineers have attempted to cram the performance we crave into a computer we wouldn't mind carrying. Its weight is a full two pounds lighter than the Alienware 14, and actually, slightly lighter than even its 11-inch ancestor. It's also only one inch thick, chopping off an excess .7 inches in comparison to the chunky Alienware 14.
At a press hands-on with this new hardware, an Alienware engineer stressed that they didn't "sacrifice performance for mobility": despite its slimming figure, the laptop matches graphics capability with the Alienware 14. That's because within this one-inch chassis lives a NVIDIA GeForce GTX 860M graphics chip as well as any Haswell Core i processor of your choosing. Alienware reps mentioned that the chronically delayed Broadwell chips will probably not make it to the Alienware 13's launch, which will be sometime this holiday season, but will be added to the lineup as soon as they're available. These processors will be ultra-low voltage, which will help with heat, and the processors themselves won't be throttled. In addition, the Alienware team has copper heat sinks and two separate fans to help fight burning fingertips and sweaty palms. The 13-inch will also offer both Windows 7 and Windows 8.1 options at launch.
With a 13-inch LCD screen, powered with TN or IPS tech (depending on the model), the Alienware 13 will offer HD, Full HD, and Quad HD (2560 x 1440) experiences with optional touchscreen technology.
G/O Media may get a commission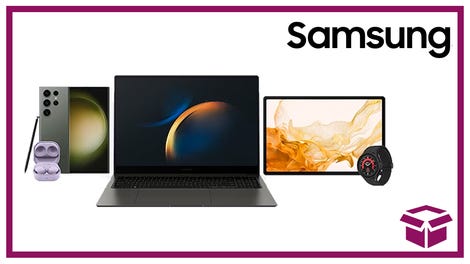 24 hour deals
Discover Samsung - Daily Deal
The new Alienware 13 resting on top of the last year's Alienware 14.
The Alienware 13 is a pretty obvious answer to the Razer Blade (2014) we saw earlier this year. Although we think that the Blade is a great fit for any serious gamer, its absolutely astounding display and GPU and CPU were overkill for normal, mundane tasks. The Blade's QHD+ made many applications look terrible since few have actually been scaled up to run optimally on so many pixels, and the high-spec'd chips made it uncomfortably hot and drained its battery in only 40 minutes at max settings. Alienware promises 8 hours of streaming video with the 13, but won't gives specifics on expected gaming time as the laptop design is still being tweaked. Also, Alienware is keeping tight-lipped on pricing tiers, but Dell's price on a fully-spec'd 14-inch is around $2,200. So if you want the best of the best, you might want to start saving.
The Alienware 13 makes a lot of promises: a laptop with stunning graphics, a relatively cool chassis, moderate battery life, and a price that doesn't require applying for a low-interest loan. If it can deliver, maybe pro level gaming can really go mobile.