There is a new iOS app called Vent devoted to letting people complain about their lives. It's a shitstorm in the making.
Like Whisper and Secret, you can post anonymously, though the app does require an email address (it's not displayed publicly, but still), and you can choose to post your real name.
Vent has a slick interface and an inviting pitch: "Get it off your chest," the app's website reads. "Voice your opinion to our supportive community without the worry of being insulted or disrespected, de-friended or upsetting people you know."
There's not much difference between Vent and other anonymous/pseudonymous posting apps aside from its mission to provide a platform for complaints. So...it's basically like a Secret that explicitly encourages people to gossip about VCs.
Right now, the Vent community is actually quite positive. There are inspirational rallying cries and discussions about American Horror Story. Many of the posts aren't complaints at all. The flow of posts most closely resembles YikYak, another anonymous posting app with a high school and college-aged user base. Many of the posts reference school and quizzes, suggesting a young group of users. Someone posted that Vent is the only app working at school, a sign that high schoolers may pick it up because schools don't know to block it from campus yet.
G/O Media may get a commission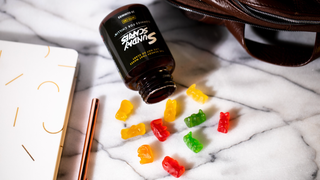 10mg CBD Gummies (22-Count)
Like YikYak, people are using it as an alternative to Whisper or Twitter, a status updating service:

Good morning/evening/night my sweetpeas
omg thank u guys for 100 followers omg that really means a lot that u guys actually care about my problems
You can comment on someone's post and follow other users, and people can be kind, writing words of encouragement after despairing outbursts.
But, unsurprisingly, there are plenty of posts that do honor Vent's directive to vent, especially under the "Furious" emotion (Vent lets you categorize your post with an emotion):
when fucking idiots get captain positions you know your school is fucked
If I want to vent and indirectly tell someone to just disappear and die, then thats not anyones business here. Like, unless that disgusting mochi-lover cunt or retarded land whale sarah got a vent, I will vent however I want and about whatever I want.
MY CLASSMATES ARE STUPID AS FUCK LIKE DO YOU EVEN HAVE A BRAIN
I mean, I get it: Sometimes you just want to talk some serious shit. I know how a particularly venomous insult feels rolling around in my mouth. It feels good, especially when you're a miserable high schooler. That doesn't mean it is good for you.
But that the app is potentially emotionally unhealthy is actually secondary to the real reason it is potentially hazardous.
This app is designed to look benign, but it's a combination of a fledgling digital burn book and an insecure digital diary. Neither of those things is good.

"We promote ourselves as being a safe environment where users can vent about anything (or anyone) that they wish, without their real world connections being affected," founder Dean Serroni told me via email.
And some users are seeing Vent as a safe space. People are treating it like an updated PostSecret, a place to unburden, grouse, and confess. Even the posts that aren't venomous often contain stuff people might not want to see made public as their words.
Like this:
I just ruined my shot of dating my crush, I ruined my friendship with him and my best friend. I cyber bullied someone tonight because I thought I was being funny. I feel ashamed, disgusted, and pathetic. I'm feeling so suicidal now and I just want to not be myself.
it's been over a month since ive cut but
the fact that i still live with my abuser and talk to him on a daily basis is fucking destroying me
There are far more posts expressing feelings of self-hate and depression than their are explicitly shit-talking posts, but really, these posts could be even more damaging to the posters if their identities were exposed. And while Serroni emphasized that users "remain totally anonymous at all times," and noted that data is stored on secure servers, Vent's privacy policy tells a different story.
You'd think Vent would include more provisions to help users keep their posts under wrap, but...not so much.
From the privacy policy:
We consider when you post a Vent you are requesting us make this information public. This includes not only the Vents you post, but also the metadata provided with Vents, such as when and where you Vented, but also the people you follow, the Vents you mark as favourites or respond to, and many other bits of information that result from your use of Vent. Vent makes all the information you provide public for as long as you do not delete it from Vent. Your public information is broadly and instantly disseminated.

Uh, why would anyone specifically download an app just to whine without fear of public judgment if they wanted to make the information public? While users are supposedly anonymous, they keep the same name handle, and post such revealing stuff that you could use context clues to track them down, just like people do for pseudonymous Twitter users.
Vent readily admits in its policy that it collects information on its users, including IP addresses and browser types, and that it uses the information to "improve our App and marketing efforts," which is broad enough to mean a lot of things.
In addition to reserving the right to share your personal information as required by law, Vent also reserves the right to share your information "When we believe in good faith that disclosure is necessary to protect our rights, protect your safety or the safety of others, investigate fraud, or respond to a government request." (Emphasis mine... what rights does Vent have? This is vague for a reason.)
Vent also retains the right to share user's personal information "To any other third party without your prior consent to do so." So basically Vent withholds the right to share anything people post and their user info with anyone, anytime. VERY good feature for an app that encourages people to shout their angriest thoughts into a void.
Students are using this app to air their private thoughts and it's about as private as Twitter, which is to say, NOT PRIVATE.
Plus, secure servers or not, there's always a chance an app like this could get hacked, especially if user growth outpaces developing a security team (something that happens with lots of apps that gain users quickly, like Snapchat).
Vent wants you to know that's a very real possibility: "No method of transmission, or method of electronic storage, is 100% secure. Therefore, we cannot guarantee its absolute security," Vent's privacy policy reads.
I realize I'm venting about an app named Vent, and to be honest the PR guy who told me about the app was very polite and the people who made the app may have absolutely pure intentions, but it stands that they've made an app that gives young people the impression they can use it as a digital confessional while reserving the right to peddle their secrets and disclose their identities as it suits the app makers.

Teens are not stupid. In fact, they are much less stupid than most olds when it comes to technology. But the reason young people are migrating to smaller social networks like Vent is to enjoy a digital community that feels private, or at least intimate. Vent trades on that feeling, urging users to get stuff off their chest in a safe space, but it doesn't actually provide any safety net. The users aren't dupes, but the app is duplicitous.
I'm just waiting for the first Vent horror story.
Image: Screenshot of Vent