I recently ditched the roommates and started living on my own. That meant I didn't have to clean up after someone else's disgusting bathroom habits, but it also meant I had to buy my own living room furniture—the essential part of home theater gear that interfaces with your butt as you play games, watch movies, and HDTV. After field testing nearly 50 couches, this is the one I went with. And after the jump, why.
G/O Media may get a commission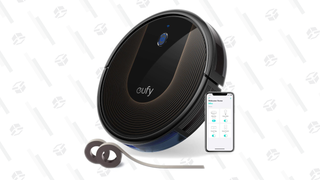 48% Off
Eufy BoostIQ RoboVac
Nearly a decade after the event, most of my college-level instincts are still intact. Naturally, I thought it would be really cool to have a couple of bean bag chairs scattered through the new place. Leopard skin patterned. The girlfriend vetoed that idea in about half a second. Then we got into the car and went looking for something I could sit on that retained the enveloping qualities of a giant vinyl sack of Styrofoam peanuts, with the appearance of something respectable. We eventually spent a few weekends sitting in the cheapies at ikea, the outrageously-priced and jokingly-named stuff at Design In Reach, and everything in between. As it turns out, a lot of the fancy stuff just feels like shit to sit on. And a lot of the comfy stuff looks like it belongs in grandma's house, covered in plastic. Then I found the Bee Lounge, in SF's SOMA district, at this store called iExpress.
It is fucking huge, at 96 inches by 48 inches deep, so I fall right into it. There is no sitting on this thing. Its dimensions explicitly invite slouching as far as the human frame can go without actually lying down, and at this point, my legs are still only hanging off it. And covered in Microfiber, it feels like suede, but wipes clean after an uh-oh. It still cost as much as a small plasma, but no regrets here. I will park my ass on this thing 12 hours a day, between work, play, and nap time, for the next 8-10 years. That is what we call value, considering the TV would last only 1/3 that long before I would be whining for a new one. I almost got it in orange, too, but was talked down to a more sober graphite. Probably a good call, as I enter my 30s.
What are you sitting on while you watch TV?
Bee Lounge [iExpress SF]