We've seen a volcano eruption filmed by a drone, and we've witnessed the fictional wrath of Mt. Doom. But this gallery of photos reveals the many faces of vulcanism, and they are the very definition of awesome.
Lava spews out from the volcano Eldfell, close of the homes, Heimaey, Iceland, January 1973
(Photo by AP)
This eruption of Mount St. Helens on 22nd July, 1980, sent purnice and ash 6 to 11 miles (10-18 kilometers) into the air, and was visible in Seattle and Washington, about 100 miles (160 km) to the north.
G/O Media may get a commission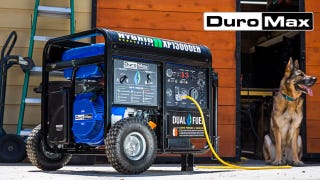 Black Friday Sale
DuroMax Generator Sale
(via Wikimedia Commons/Mike Doukas/USGS Cascades Volcano Observatory)
A red and orange river of lava flows on the southeastern slopes of Mount Etna, Sicily, May 11, 1983
(Photo by AP/Gianni Foggia)
Molten lava spews into the air out side of a cinder cone in a new eruption at Kilauea Volcano on the island of Hawaii on July 24 and July 25, 1983
(Photo by AP)
The Mount Redoubt eruption on 21th April, 1990, photo taken by R. Clucas
(via Wikimedia Commons)
A small eruption of Mount Rinjani, with volcanic lightning, Lombok, Indonesia, photo by Oliver Spalt, 1995
(via Wikimedia Commons)
Volunteer Rich Krahenbuhl uses a radar gun to measure the speed of lava running through a lava tube Nov. 20, 1997, at the east edge of Hawaii Volcanoes National Park on the island of Hawaii. The Kilauea Volcano has sent out rivers of molten rock that have consumed the community of Kalapana, destroying 181 homes, a church and a community center.
(Photo by AP/Tony Cheng)
Mount Merapi spews out lava and steam during an eruption as seen from Babadan observation point outside the city of Yogyakarta in Central Java, 400 kilometers (250 miles) east of Jakarta, early Monday, July 13, 1998.
(Photo by Charles Dharapak/AP)
A series of thunderbolts can be seen over the Pacaya Volcano, the most active in Guatemala, which erupted Sunday Jan. 16, 2000. The volcano, 16 miles south of Guatemala City, erupted with a 490-foot high burst of lava.
(Photo by AP/Jaime Puebla)
Huge plumes spew from the Mount Merapi volcano as seen from Babadan, Central Java, Indonesia, Saturday, Feb. 10, 2001.
(Photo by AP)
Glowing red lava and plumes of smoke spew from the Mt. Etna, Sicily, July 19, 2001.
(Photo by Fabrizio Villa/AP)
A house is covered in melted lava in Goma, Congo, Friday, Jan. 18, 2002
(Photo by Sayyid Azim/AP)
One branch of the lava stream drips down small cliff at head of bench, and one flows onto bench, Hawaii, September 2002
(via Wikimedia Commons/USGS)
Semeru, Java, Indonesia, 2004, photo by M. Rietze
(via Wikimedia Commons)
Augustine Volcano, Cook Inlet, Alaska, USA, 2006, photo by Game McGimsey
(via Wikimedia Commons)
A 32 ft (10 m) high arching fountain, south of Pu'u Kahaualea, Kilauea, Hawaii, September 2007
(via J.D. Griggs/Wikimedia Commons)
Eruption of Sarychev Volcano, Matua Island, northeast to Japan, on June 12, 2009
(via NASA/ISS Expedition 20/Wikimedia Commons)
The first fissure opened on Fimmvörðuháls, near the Eyjafjallajökull glacier on 29th March, 2010
(via David Karnå/Wikimedia Commons)
Eyjafjallajökull, Iceland, April 2010
(via Terje Sørgjerd/Wikimedia Commons)
The volcano in southern Iceland's Eyjafjallajokull glacier sends ash into the air just prior to sunset Friday, April 16, 2010.
(Photo by AP/Brynjar Gauti)
Lighting seen amid the lava and ash erupting from the vent of the Eyjafjallajokull volcano in central Iceland early morning, April 18, 2010. Low-energy lightning is sometimes active during eruptions, arcing between particles as they exit the volcanic vent at around 100 metres per second.
(Photo by AP/Jon Pall Vilhelmsson)
Eyjafjallajökull, Iceland, May 1, 2010
(via Wikimedia Commons/anjči)
Lava streams on the shore, approaching the ocean, Kilauea, Hawaii, May 2010
(via USGS)
Volcano Tungurahua throws ash and stones during an explosion, just before midnight, May 28, 2010, in Cotalo, Ecuador.
(Photo by AP/Dolores Ochoa)
Flows reached the Kalapana access road and covered about (300 m) of asphalt, Kilauea, Hawaii, July 17, 2010
(via USGS)
Etna, January 13, 2011
(via Wikimedia Commons/Cirimbillo)
Kilauea, Hawaii, March 2011
(via USGS/Wikimedia Commons)
Lava lake on Mount Nyiragongo, Virunga Mountains, Democratic Republic of the Congo, May 2011
(via Cai Tjeenk Willink/Wikimedia Commons)
Aerial view of a perched lava lake in Pu`u `Ō `ō crater, Kilauea, Hawaii, May 20, 2011
(via USGS)
Mount Sinabung spews pyroclastic smoke as seen from Tigapancur village in Karo district on November 14, 2013 in Medan, Sumatra, Indonesia. Up to 4,300 residents have been evacuated from five villages in North Sumatra due to the volcanic eruptions of Mount Sinabung.
(Photo by Ulet Ifansasti/Getty Images)
A woman carries her daughter in a nearby field as Mount Sinabung spews pyroclastic smoke on January 4, 2014 in Karo District, North Sumatra, Indonesia
(Photo by Ulet Ifansasti/Getty Images)