This Monday, cities across the country will be pulling out all the stops to have their citizens see some of the finest light shows ever orchestrated. That shit takes time and energy, and a lot of it is to ensure both the fireworks and the people behind them are stationed safely.
Grucci is one pyrotechnics firm that's storied in terms of great fireworks displays. Courtesy of Wired, here's the toolkit they use before the razzle dazzle of the 4th of July even starts.
Here's a Safe-T-Ohm Shoe Tester, used to make sure workers aren't building up the kind of charge that could potentially kill them before the event.
G/O Media may get a commission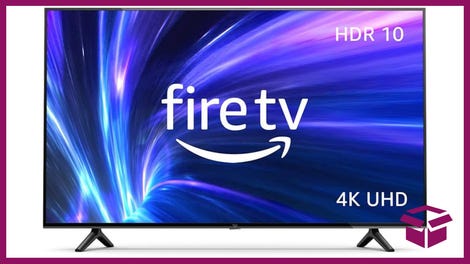 42% Off
Amazon Fire TV 50" 4K Smart TV
In a Patterson-Kelley V Blender, the coloring agents are mixed with oxidizers to create those explosions of color.
Of course, any controlled explosion—because that's what a firework is—requires more than a modicum of precision. This Sartorius FC2CCE-SX Scale accomplishes that by measuring materials down to a hundredth of a gram.
With a SmartTool PRO 360 Digital Protractor, you can measure the height of a burst. Trajectory is really important.
Because some folks like it loud while other customers don't, using a Quest Model 1700 Impulse Sound Level Meter allows Grucci to stay within the decibel range they need.
Lastly, all this equipment would be useless if your shipment of explosives doesn't make it to its destination. A vibrating table tests the mettle of a shipment by simulating a trip down a bumpy highway. If the package survives, it's good to go. [Wired, Image Credit: David Duncan]