These days, emojis are as essential to online interactions as an alphabet. So once Star Wars finally entered that world with its own app, it became essential to get in on the craze. Enter Truck Torrence, an artist hired to make the cutest versions you've ever seen of a galaxy far far away.

If the name Truck Torrence doesn't sound familiar, that's the point. He's better known by his monicker, 100% Soft, which not only serves as a nom de plume—it's a personal mantra. "I like everything to be kawaii and concentrated down to the core elements of what makes a character or object distinguishable or cute," he said. That, along with his concentration on pop culture, made him a good fit for Star Wars emojis. Before that though, he had to get discovered.
"Earlier this year I had a solo art exhibition at Gallery 1988 in Los Angeles called Mass Hysteria, which was based around pop culture crowds," Torrence said. He had a Star Wars piece in the show from the original trilogy and the gallery told Lucasfilm about it. They loved it. "They asked if I'd be interested in working on a secret project for the biggest film of the year. Hot Tub Time Machine 2 had already come out, so I assumed it had to be Star Wars."
Initially, the plan was to make emojis fans could tweet exclusively during Star Wars Celebration. Those ended up being C-3PO, BB-8 and the new Force Awakens Stormtrooper. The venture was such a success they did it again for San Diego Comic-Con (this time, it was Kylo Ren, Kylo's saber and Captain Phasma). The project reached its peak last week when the Star Wars app updated with 52 emojis, which include characters from The Force Awakens, both the original and prequel trilogies, as well as Star Wars Rebels.
Here's all of them:
G/O Media may get a commission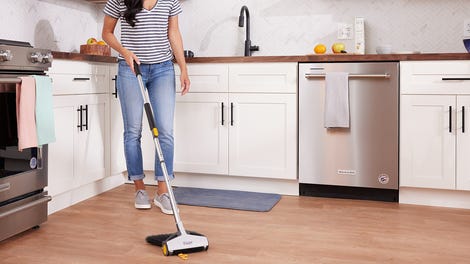 BOGO 50% Off
Flippr - BOGO 50% Off
After being contacted by Lucasfilm, Torrence figured things would be very secretive. "I sort of imagined when I started the job that I'd have some helicopter fly me to Skywalker Ranch where I'd be escorted to some underground bunker, surrounded by security guards while I looked through a library of images watermarked with my name," he said. That was not the case. "They ended up being pretty chill about everything." Since the first teaser was already out, they simply sent him some key art to get more detailed looks at some of the new characters and ships.
Once Torrence had the art, he started designing. "Most of these characters, especially from the original trilogy ones, are sort of burned into my consciousness so bringing up their imagery in my head is easy to do," he said. "But I also like to get in the mood so usually I'll have one of the movies playing in the background as I work and take screencaps of any visual references I need. I'll usually start out with a loose sketch of the characters and then use that as a guide while I created them digitally. I tend to start with simple shapes that I can then refine and mold into what I want. This can take either minutes or hours depending on the complexity of the subject, but once I'm happy with the look and confident that it captures the spirit of the character, I passed it on to Lucasfilm for approval. Once Lucasfilm would give me their changes, which were usually minor, I would then continue refining them to a point I was happy with. Most of these characters mean a lot to me so I wanted to get everything right."
Here's an example of the process for creating a single emoji.
He was pretty much given free reign to do what he could with the characters, doing a few surprise designs Lucasfilm loved and few not so much. "The character design in the whole Star Wars series is so distinctive and left a huge impression on me as a kid, so it was really cool to be able to translate any of these iconic characters into my own style," Torrence said. "I ended up creating a few extra just for fun, like Vader with no helmet, which Lucasfilm got a kick out of. I also mocked up a lava burnt Anakin from Revenge of the Sith that was cute but also sort of horrifying so we opted out of that one."
With more Force Awakens characters, ships and reveals on the way, Torrence didn't know if he'd be asked to make additional emojis when we spoke to him. He hopes so of course, because Star Wars, to him, is as big a part of his life and his art.
"My love for all of that pop culture has informed a lot of my personality so I just try and channel it into what I do," he said. "Really I just hope my art can make other people smile because I get a lot of joy out of doing it."
For more on Torrence, visit 100soft.us. To get all the emojis, download the Star Wars app on ioS here and it'll be coming soon for Android.